Popularity Resident Evil 4 in fan culture is incredible. Leon Kennedy and Ada Wong in a long dress have been in demand by cosplayers for years in a row. On the occasion of the release remake, we decided to collect the brightest works based on the fourth "Resident Evil".
Ada Wong by Kira Frost
Resident Evil 4 was remembered by many players, in part thanks to Ada Wong, who ran through the Spanish outback in a long dress. This outfit looks spectacular, but a little out of place. In the remake, it was replaced with a more practical jersey. Miss Wong from the original 2005 game was brought to life by Kira Frost.
Ada Wong from Oichi
Oichi is one of the first female cosplayers to cosplay Ada from the remake. You can find more works by Vera in our article.
Which outfit suits Ada Wong better?
Ashley Graham from PeachMilky
While creating Ashley's appearance in the Resident Evil 4 remake, the developers used the figure and movements of a girl known as PeachMilky. This beauty dabbles in streaming and cosplay. At the same time, Miss Graham's face was taken from a model from Denmark named Ella Freya.
Leon Kennedy by Grayson Fin
Evgeny Vasiliev, better known as GraysonFin, often returned to the image of Leon Kennedy. In this compilation we have included a photo set where his hero's encounter with a chainsaw is recounted. He proved to be one of the most dangerous enemies in the original Resident Evil 4. He has a huge amount of health and his weapon kills Leon with the first hit.
Photographer – ping timeout.
Cosplay compilations
Ada Wong by Valeria Chimera
Valeria's portfolio includes a cosplay of Miss Wong in a short dress made of Resident Evil 2, as well as many original skins, including Ada the Teacher. But in this article we took her work based on the fourth part.
Ashley Graham and Leon Kennedy by Ilsa Kelman and Arkham Psy
Leon arrived in Spain with a very important mission: to save Ashley Graham, the daughter of the President of the United States. The girl was remembered first of all by a shrill beep. When peasants or servants of the castle grabbed Ashley, she didn't keep silent, she screamed with all her might. For those who have played Resident Evil 4, the phrase "Help, Leon!" ("Help, Leon!") Cast in memory forever. Leon cosplay was done by Arkham Psy. Ilse Kelman as Miss Graham.
Photographer – Miss Plague.
Ada Wong of Megalcarmen
Anastasia Edlin, better known as Megalcarmen, specializes in intricate crafty looks. However, before the release of the Resident Evil 4 remake, the girl made a cosplay on Ada Wong.
Kristy Che's Ada Wong
Kristy Che cosplayed Jill Valentine several times. But the girl's portfolio also includes the luxurious Ada Wong. Only three frames have been released to the public. You can see them here.
Ashley Graham from Mainny
This cosplay work was created especially for the release of the Resident Evil 4 remake. The girl, known as Mainny, was led by Ashley's new look, which is different from the one in the original 2005 game.
Ada Wong from Tniwe
Tniwe cosplayed Ada a few years ago. This work can be attributed to fan service, because in the game Miss Wong had a more modest dress.
Leon Kennedy and Ada Wong by Lucher and CarryKey
Another photo set that plays with the complex relationship between Ada and Leon. They really have feelings for each other, but secret work and circumstances do not allow them to be together. However, it is difficult to hide mutual sympathy – it is noticeable even to strangers. In the role of Leon – Lucher. Ada Wong cosplay made by CarryKey.
Ada Wong from Miroslava Ladovir
The mission to Spain is far from Ada's only mission. Miroslava beat the story, which was not in the games. But it suits Miss Wong's profession and her methods to achieve her goals. According to Mira's idea, the girl contacts an important Umbrella employee for her, seduces him and gets all the necessary information. Mission accomplished cleanly and without unnecessary casualties. Individual frames of this set combine to form a complete storyline. We devoted a separate article to Miroslava herself. Photographer – Kristina Borodkina.
Ada Wong by Ksana Stankevich
Ada also had to fight with the distraught peasants. On art, she is usually shown with a Thompson machine gun, known to us from the games of the Mafia series. To unlock it in the original Resident Evil 4, you'll need to complete the Assignment Ada mini-campaign. Cosplay on Miss Wong was created by Ksana Stankevich.
Leon Kennedy and Ada Wong by Arkham Psy and Mewz
In Spain, Ada Leon saved several times from certain death. At the same time, Miss Wong always pursued her goals and did not hesitate to threaten her friends with firearms. Leon cosplay was done by Arkham Psy. In the role of Ada – Mewz.
Ada Wong of Saint Agnia
Saint Agnia is one of the few girls who is Hell based on cosplay sixth part. There, Miss Wong changed her dress into tight black trousers. But for the purposes of this article, we'll show her work based on Resident Evil 4.
Photographer – Kristina Borodkina.
Ada Wong from Oripiepie
According to Resident Evil series lore, Ada Wong is an American-Chinese woman. That's why we want to complete our selection with cosplay of a charming Asian. We stopped at the work of a girl known as Oripiepie. The look is clearly inspired by the 2020 Ada Sniper figurine.
Who is your favorite character in the Resident Evil series?
Source: VG Times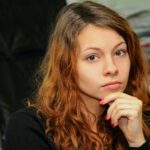 Christina Moncayo is a contributing writer for "Social Bites". Her focus is on the gaming industry and she provides in-depth coverage of the latest news and trends in the world of gaming.