An enthusiast nicknamed JacktheLightning posted a video showing what a modern remake of the famous stealth action might look like. Metal Gear Solid, released in 1998 (a remake was released on the GameCube in 2004 The twin snakes).
In the video, the author recreated the scene on the helipad, where Solid Snake Liquid Snake sees the helicopter flying. The graphics engine of Unreal Engine 5 helped the fan in this. To improve the lighting, he applied Lumen technology.
Meanwhile, rumors of an official Metal Gear Solid remake are circulating online. In December, information emerged that the project could be developed for the PlayStation 5.
Last month also actor Quinton Flynn, who voiced Raiden Metal Gear Rising: Revengeance, hinted at a loud announcement.🛋 There's an endless sitcom on Twitch, generated in real time by neural networks
Source: VG Times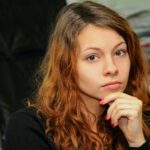 Christina Moncayo is a contributing writer for "Social Bites". Her focus is on the gaming industry and she provides in-depth coverage of the latest news and trends in the world of gaming.