An independent and anonymous developer recently introduced their own open-world role-playing game called Jumun – Will on the Blade. The game is made in the soul-like format, but the combat system is more dynamic.
The main action, judging by the video, takes place in the ancient oriental setting. The video shows how the protagonist, armed with a katana, travels across a vast world, fighting enemies along the way.
The game will be disjointed, have spectacular finishing moves and pumping combat skills.
According to the developer, the project is being developed for both PC and consoles. There should be an official page on Steam soon. The engine is Unreal Engine 5.
Unfortunately, other details of Jumun – Will on the Blade have not yet been revealed.🐈 I played the game and petted the cat
Source: VG Times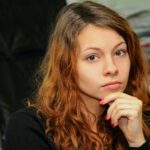 Christina Moncayo is a contributing writer for "Social Bites". Her focus is on the gaming industry and she provides in-depth coverage of the latest news and trends in the world of gaming.