Well, it seems that the artificial intelligence is already ahead of Bethesda and has come up with a plot The Elder Scrolls 6 before this game came out. Recently, the author of the YouTube channel nicknamed TheArtofAi posted a video about it.
He asked the neural network ChatGPT to come up with a plot for TES 6. In addition, the YouTuber also used Midjourney to illustrate the game's world.
So, for example, according to the plot of the game invented by AI, the main character is tasked with finding out the truth about a long-forgotten event that shaped the history of Tamriel. The character goes to the mysterious ruins in the heart of the wasteland. While studying, the hero discovers a powerful force and an ancient artifact that can change the fate of the entire mainland.
As the hero travels through Tamriel, the hero will have to find clues and allies that will help him accomplish the task. In addition, political and internal conflicts between factions await the character. In the end, the hero will have to decide what to do with that very mysterious artifact that can affect the world.
According to insider Tyler McVicker (Tyler McVicker), the release of The Elder Scrolls 6 will not take place until 2026-2027.
Recall that earlier the neural network was asked to show what will be GTA 6.👍 A girl turned her boyfriend into Olgerd von Everek from The Witcher 3 add-on
Source: VG Times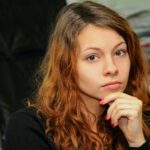 Christina Moncayo is a contributing writer for "Social Bites". Her focus is on the gaming industry and she provides in-depth coverage of the latest news and trends in the world of gaming.