A politician dies. He goes to the other world and asks the way to heaven. They tell him the rules are very clear. He has to spend 24 hours in heaven and 24 hours in hell. Then you will have to make a very important choice. You will have to decide where you want to spend eternity. There is no way to correct the selection. The politician says that of course he prefers to go to heaven.
No, they tell him. The selection should be made after the exam, not before the exam. Where would you like to start?

Damn, says the politician.
Open the gates of hell. He walks in and sees other politicians from his party walking around in fancy suits. The weather is magnificent, the faces show extraordinary youth and beauty. He walks aimlessly and comes to a golf course with a green that is a carpet. He stops to play a few holes. He feels hungry while playing and asks one of the players where in hell he can find something to eat.
Look, there's a restaurant near where we are called El Tridente. Great food, excellent wines. And of course it's completely free.
The friendly thanks the informant, says goodbye to his playmates, and goes to the restaurant. Thinking it might take longer than his appetite requires, he stops a taxi with a free sign. She asks him to take her to El Tridente restaurant. He chats passionately with the smiling taxi driver and asks for the bill when he arrives.
No please, it's free regardless of distance.
The restaurant is luxurious. It sits at a table by the windows overlooking a wonderful view. They bring you the letter. In fact, the prices are not visible. Note that you were told it was free. Order Russian caviar, Thermidor lobster, lamb chops and red wine recommended by the waiter as the best in the restaurant and in hell.
Very pleased with how the day went. It is announced over the loudspeaker that the festivities, dances and games of that day will begin. He asks the waiter how to get to the party stages. She says there are taxis at the door that will pick her up quickly. Wish you have fun.
He takes the first taxi and asks the driver to take him to the dance floor. The atmosphere couldn't be more festive, you can tell the people are lively and happy.
He meets groups of people wearing glasses, drinking and chatting happily. He goes to the bar and orders a gin and tonic. He is greeted by a group of girls. One of them particularly catches your attention. They're on the dance floor…
The night teenager says when his partner asks if he is tired.
Hours pass. He barely remembers why he was there. The sun is rising. Breakfast is served at the party… He is so happy that he is surprised when they say they have been in hell for 24 hours. He says goodbye to his friends and happily heads for the exit because he remembers that now it's his turn to go to heaven. Well, if this is hell, what will I not find in heaven, he says to himself.
They will take you to the gates of heaven. They open the doors and see fluffy white clouds of different sizes. Despite all his objections that he does not know how to play, he is given a harp. They say you can switch from one cloud to another without any problems. When he asked if anyone else would come and they said no to him, she wants him to finish the test as he has already made up his mind. They tell him it's not possible. You have to spend the legal 24 hours there. It makes it boring and endless.
When you finish two tests, it is said to be the decisive moment. You have to say where you want to spend eternity. They persistently warn that there is no going back. She says she has no doubts, that she wants to go to hell, that she won't regret it because she made good friends and had a good time there. He signs the document presented to him regarding his decision.
They open the gates of hell, and when he enters he is in great fear: the politicians of his party are still there, now dressed in rags and looking for food in the garbage, the air is unbearable, the smell is bad, the faces are sad and worn… The golf course has been burned. He asks where he can eat something and they tell what they found in the garbage. The disappointment is immense and the nervousness indescribable. You want to change the decision and they said you were warned several times that the decision could change. It was for eternity. He goes to the offices of hell to protest:
I spent 24 unforgettable hours here yesterday. Now I've chosen, it's unbearable. What happened here?
The answer stuns him:
It's simple, sir. We were in the election campaign in hell yesterday.
The story so far. A memory from here in Andalusia that we have to vote tomorrow. I think the story is meaningful. In an election campaign, everything is promised to everyone. They promise to build a bridge where there is no river. But we are the voters who must analyze and decide. Have promises been kept? Was it explained why it was not fulfilled? Have you apologized for not keeping what you promised?
In addition, promises that are not kept later are made regarding pacts. We will not participate in this force under any circumstances. Or we'll deal with this other to get good government. And then what?
It worries me that Mr. Juanma Moreno so vehemently despises the party he is leading. Juan Marín (who thought there was nothing before him and made Andalusia the model for Europe in three years) is proud of what the government has done and promises to continue working with the President from 8 am. 20th of the month But they didn't give a single thank you for his support and didn't include him in a future deal. Because Moreno repeats like a mantra that he wants to rule alone (without the Citizens, Mr. Moreno?) in alliance with the Andalusians. And what is this?
Mr. Feijoó says if the PSOE finds the deal with Vox so negative, he abstains and why he does not support the formation of a PP government. And why would you abstain and not support a PSOE government if your party deems the far-left, pro-independence supporters and supporters so undesirable?
And unacceptable strategies come into play to gain votes. Not everything applies to convincing voters, as in the scene where a so-called PP member tears up his card in the presence of Ms. Olona and says that the discussion has convinced him. He already supported Vox and apparently voted in favor of it in previous elections. I knew it from the first time I saw it. Then I saw that you confirmed my suspicion. What a lie. What a deceitful theater with terrible actors. Ah, we are in an election campaign!
I will not vote for others to rule, I will vote for leftist, supportive, feminist, progressive policies to take action…
22 parties and federations and 5 coalitions are participating in the elections. Not all of them were established in 8 provinces (7 out of 22 parties and 4 out of 5 coalitions). The fragmentation of the left can be a hindrance or help. I hope what the polls predict is rejected by the polls. Winston Churchill said he only relied on polls he had manipulated before.
The ballot box is the cradle, not the coffin, of democracy. After the elections, I want to say that citizens must continue to participate for the inexcusable fulfillment of election promises, both programmatic and pact.
When you read this, dear reader, dear reader, the results of the Andalusian elections will be known. We'll start to see now if the election promises are a hoax or if they really hint at reality. This verification is a form of democratic control.
Source: Informacion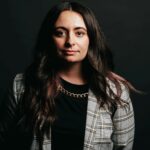 Barbara Dickson is a seasoned writer for "Social Bites". She keeps readers informed on the latest news and trends, providing in-depth coverage and analysis on a variety of topics.