The answer to yes Artificial intelligence will serve to improve our lives There is in Almendralejo (Badajoz). In this city with a population of just over 30,000, many families are depressed because fake photos of their naked daughters are circulating and manipulated by one of these programs, as well as videos in which several girls appear without clothes. Your 11-year-old, 14- or 17-year-old daughter's head and the body of a porn star are at the initiative of a few school or high school classmates who are attentive to all sorts of technological innovations that allow satiating their shortness and misogyny. It would be a disgusting act It's an attack on the image of minors and a risk to mental health at a very tender age, but on top of that, they asked some victims for money in exchange for their collages not going viral. The parents of those affected know very well who the perpetrators of this idea are, they all know each other there. It wouldn't be bad to have IDs and photographs of potential juvenile offenders and even those who transmit them. Let everyone have fun with the algorithm for a while, But this cannot and should not be done. Data and childhood protection. The mother of one affected person said she asked her daughter if she had taken nude photos with her friends for fun, but she said no. There was no need, they took the face from social networks and added the rest; Now they make fun of him on the playground and he's embarrassed to go to class. I've heard before that experts warn about the images babies share with their peers on their profiles or on the phone. It only took one of these ignorant people to capture his face with his cell phone while walking down the street.I wonder if they will recommend that we send them to school with balaclavas? Or with a burqa.
Machines make things easier new and creative forms of machismo, It does not seem to be a simple coincidence that the authors of the fake photos are male and the victims are female. Their families spend a lot of time, energy and money reporting this anger. Because we know of many actresses and models who have been doing the same thing for years, trying to remove adult movies from the internet that they have never starred in, as well as musicians who are equally vigilant. his fake voice was used to create songs that were not his own. Impossible tasks, thousands of new, modified products are created for every file lost. It seems that the issue only concerns those who directly suffer from it, and controlling the misuse of this technology is currently a theoretical debate with little practical significance. It's fine to philosophize about what's real and what's deceptive, but someone will make money with tools like: Application used by children with Almendralejo, They offer to "rob everyone with our free service." It no longer costs money to rob your neighbor without his permission; But this should not come free to blackmailers who show little respect for their colleagues, or to those who make it easier for immature people to practice this new form of harassment. The abundance of unwanted nudity may lead us to look for better uses for artificial intelligence. a bomb mixed with stupidity natural.
Source: Informacion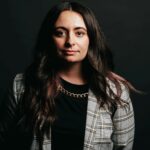 Dolores Johnson is a voice of reason at "Social Bites". As an opinion writer, she provides her readers with insightful commentary on the most pressing issues of the day. With her well-informed perspectives and clear writing style, Dolores helps readers navigate the complex world of news and politics, providing a balanced and thoughtful view on the most important topics of the moment.