In recent years, the level of chefs and the complexity of the dishes seem to increase simultaneously in modern restaurants, and there is also an increasing trend towards simplification. For example, recently in a new Japanese restaurant they found Doshik noodles with truffles and black caviar for 1,800 rubles even for Moscow. Most of the gastro bloggers have already tried and unanimously approved. It would seem, where are the instant noodles and where are the delicious truffles? But people seem to like it.
It's interesting to understand why this happens. How do increased mean control and simple food fashion now coexist in Moscow?
It's probably worth starting with the fact that fast food now seems to have lost its original meaning. Even on the go, people don't always want to eat, and the simplicity of the dishes is not always distinguished (now, maybe not only lazy people serve fries and golden burgers with truffle sauce), many take care of their health and do not always cook so quickly. All this is not just. Fast food has become popular for its nutrition, bright taste and pleasant texture, but the transformation inevitably follows popularity because there is no desire to give up familiar dishes, even with a change in lifestyle. People wanted meatless burgers, for example – they needed to find a substitute that tasted the same. Someone needs to make them healthier, so gluten-free buns, lettuce instead of donuts, and healthy alternative toppings have emerged. Sweet potatoes appeared in a few fries, sometimes baked rather than fried, and rolls began to be made without rice. Changing materials inevitably leads to higher prices. And suddenly it turns out that a person is ready to pay more if high-quality meat, a lot of different vegetables are put in his shawarma instead of chopped hard cabbage, and the cake is usually self-cooked.
The second thing that matters is how often people start going to cafes and restaurants. About ten years ago, the average family would go to such establishments several times a year to celebrate a holiday, or not at all. Eating lunch with friends, reading a book with a glass of wine in the evening, having breakfast with a view of the Red Square is now quite common and not surprising. A free sparkling wine, a new dessert or the opening of the patio is reason enough to get out of the house. Someone goes out to eat almost every day. But you can't have something new and fancy every day. Yet high-quality cuisine is also a learning process, almost an art that requires attention. After all, we're not ready to watch a complicated writer's movie every day, sometimes we just want a light love comedy with Jennifer Lopez. Also here. Complex combinations are good for a special occasion and development of taste, but we need something clear and close for every day. So a few years ago, the Caesar trend was born in almost every institution, but now they began to doshik for those who are tired of excessive brightness.
Also, let's not forget that not everyone understands and wants to understand haute cuisine. But not everyone will go to the dining room. Places that often have an innovative menu, where not a single dish can be understood without the waiter's comment, scare people away from attracting them. But even for a burger, venison and 1000 rubles it is always understandable.
Although there is another category of people. On the contrary, they want something new and interesting, but also simple and familiar. For example, the Italian corner Mondo Matto recently opened in the new Warehouse, making Pucci a specialty dish – pita in the form and pizza as the ingredient. Not cheap at all, but very tasty. And when you want a sandwich, but "something very unusual" – that's it. Loyal fast food fans want new flavors and that's how they move the industry forward.
The last question remaining: if you really want something simple and straightforward, then where do black caviar, sterlet, wagyu, gold and truffles appear in such quantities in new dishes? It's very easy to explain here. Now buying a jar of black caviar is still not a cheap pleasure at all, but eating a spoonful of boiled caviar is quite affordable. And breakfast right away, like you can't cook at home. People love luxury and want to afford it.
Given the number of different classes, gastronomy dishes and themed sets, it's safe to say that people love to progress in gastronomy. The quality of materials, beautiful presentation, design interior, attentive service are increasingly appreciated. Going to a restaurant has become familiar, but still remains an emotional experience, not just from the fact of visiting it, but from what kind of hedonistic experience you will get. However, we don't want to forget the dishes we grew up on, which are easy and quick to enjoy and bring back good memories of the past.
The author expresses his personal opinion, which may not coincide with the editors' position.

Source: Gazeta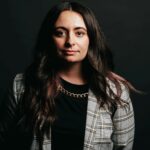 Dolores Johnson is a voice of reason at "Social Bites". As an opinion writer, she provides her readers with insightful commentary on the most pressing issues of the day. With her well-informed perspectives and clear writing style, Dolores helps readers navigate the complex world of news and politics, providing a balanced and thoughtful view on the most important topics of the moment.