The famous Oktoberfest party has been held in Munich since last September 16th and will last until October 3rd as one of the most famous gastronomic events in Europe. german gastronomy It offers delicacies such as Black Forest cake, but its fame stems mostly from hot dogs and beer.
But this is a good opportunity to delve a little deeper into the typical recipes of these dates on German soil, so we have prepared a complete menu to fully enjoy our beer.
A good beer is perfectly enjoyed on its own, but no one's spirits will be dampened by an aperitif that helps whet your appetite leading up to the main event. Pretzels (or bretzels) are salted dough springs that often accompany a strong pre-lunch drink. The recipe has crumbs but it's worth it.
Contents
For previously fermented dough:
Fresh yeast: 5 grams

Strong flour: 250 grams

Salt: 5 grams

Water: 175 milliliters
for crackers
Pre-fermented dough: 400 grams

Strong flour: 500 grams

Fresh yeast: 10 grams

Sugar: 15 grams

Salt: 10 grams

Butter: 50 grams

Milk: 100 milliliters

Water: 100 milliliters

Egg: 1

Salt flakes: 1 tablespoon

Sesame seeds: 1 tablespoon

Mint leaves: To taste
Preparation
First, we will make the pre-fermented dough. Mix flour, salt, yeast and water in a bowl. Let it rest for half an hour, knead it a little, put it back in the bowl, cover it with stretch film and leave it to ferment in the refrigerator for a day.

Next it's time for crackers. Add flour, sugar, salt, yeast, water, milk, butter and pre-fermented dough to a bowl. Knead constantly until everything is well integrated. Cover with plastic wrap and let rest for 30 minutes.

Take the dough out of the bowl and knead it for about 3 minutes. Return it to the container, cover it with film and leave it at room temperature until it doubles in volume.

Divide the dough into 12 pieces and shape them into balls. Stretch the dough balls to form 12 cylinders in the order of removal. Once you've stretched it all out, start from the beginning and stretch it again until it's about 40 centimeters long.

Create ties by respecting order. Spread them out on two baking trays lined with paper.

Grease the springs with beaten egg, cover the trays with clean cloths and let rise for an hour. They need to double their volume again.

Remove the cloths and spread the egg again. Sprinkle sesame seeds on one tray and salt flakes on the other.

Place one of the trays in the oven and bake the crackers at 180-190°C for about 10-12 minutes. When they are ready, remove the tray and insert the other one. Let cool on a wire rack and garnish with mint leaves.
It's time to go to work. Crackers accompanied by good beer fell with honor in battle. It's time to start eating, and we'll do it with this German potato and sausage salad. The main ingredient of the dish is potatoes, so feel free to substitute other ingredients as you see fit.
Contents
Potato: 3

Purple onion: One quarter

Frankfurt sausages: 2

Pickles: 4

Old-fashioned mustard: 2 tablespoons

Apple cider vinegar: 2 tablespoons

Salt

Parsley

chives
Preparation
Heat water in a saucepan and cook the potatoes for half an hour until soft. Peel them and cut into cubes.

Cut the sausages into slices and sauté them in a pan with a little oil.

Chop the onion into small cubes. Put it in a bowl. Cut two pickles into thin slices and add them with the sausages. Then add the potato and season to taste. Chop the chives, reserve some for garnish, and add the rest.

Put the mustard, vinegar and 75-100 milliliters of oil in a bowl. Stir to create the salad dressing and add to the bowl with the remaining ingredients.

Place a round mold on the plates and fill with potato salad.

Slice the other two pickles in half lengthwise. You should eat about four servings of salad, so put one on each plate.

Garnish with the chives and parsley we didn't use before.
The Oktoberfest menu should include sausage-based foods. One of the biggest advantages of this component is that it can be easily combined in many different ways. As the second course, we chose traditional sauerkraut accompanied by famous German sausages.
Contents
Sausage: 6

Column: 1

White wine: 2 glasses

Wine vinegar: 5 tablespoons

Olive oil: 1 teaspoon

Salt (regular and crystals)

Black pepper

juniper in grain

cumin grain

Parsley
Preparation
Remove the outer leaves of the cabbage and cut into julienne strips. Do well. Add a few peppercorns, juniper and cumin. Salt to taste and add a glass of wine and all the vinegar. Bake everything for about twenty or twenty-five minutes.

Insert a toothpick into the sausages and fry in a pan. Do not use oil. Place them in a saucepan and cover with another glass of white wine. Cover them and cook for a quarter of an hour.

Prepare a hollow round mold and place the cabbage underneath. After cooking, cut the sausages and place them on the cabbage. Open the plate, pour some oil on it and sprinkle with salt crystals and freshly chopped parsley.

Garnish with a pinch of parsley and serve.
The food is filling and washed down well with beer, but now it's time to finish. Complete the menu with this apfelstrudel that will delight your friends. Sweet, delicious and light. What more could you want?
Contents
Apples: 3

Filo dough: 5 sheets

Zest of an orange

Raisins: 50 grams

Sugar: 50 grams

Melted butter: 60 grams

Orange liqueur: 50 grams

Cinnamon powder: 2 teaspoons

mint leaves

Whipped cream
Preparation
Place raisins in a small bowl and water with orange liqueur. Let's marinate until it softens.

Peel the apples and cut them into thin slices. Put them in a bowl.

Mix half the sugar, half the cinnamon and orange zest. Sprinkle with apples, cover with film and leave for a day.

Cut a large piece of baking paper and spread it on the kitchen counter. Place a layer of filo pastry on top. Apply melted butter with the help of a brush.

Take another sheet and place it on top of the first, leaving 3 to 5 centimeters of space between them. Spread again with butter. Repeat until all 5 pages are inserted.

Mix the rest of the sugar with the rest of the cinnamon and sprinkle over the dough.

Drain the marinated apples and raisins and arrange them on one side of the overlapping layers. Use baking paper to make rolls and place them all on a baking tray.

Sprinkle the remaining sugar and cinnamon mixture on top and bake at 190°C for 50 minutes.

Take it out of the oven and let it rest for 15 minutes. Spread with a little more butter.

Divide into portions and serve on dessert plates. Decorate with whipped cream and mint leaves.
Source: Informacion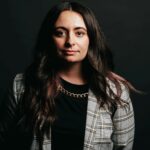 Barbara Dickson is a seasoned writer for "Social Bites". She keeps readers informed on the latest news and trends, providing in-depth coverage and analysis on a variety of topics.