The job and employee search service Rabota.ru and the self-employed service "Podrabotka" conducted a study and found out in which areas men and women earn extra money the most, and how part-time work helps to increase monthly income. "socialbites.ca" got acquainted with the results of the study.
Therefore, 40% of surveyed Russians already have an additional source of income in the form of an additional job. 46% plan to start looking for a part-time job in the near future. Only 14% of respondents are not interested in part-time work.
Men mostly seek additional income in repair and construction (25%). Courier services (22%), manufacturing and agriculture (22%), shipping and logistics (22%) were also popular sectors for men to work part-time. Trade is chosen by 21% of men.
At the same time, women mostly provide business services such as accounting or translation services (30%) and also earn extra money in commerce and retail (30%). Women are also more active in education (13%), marketing, advertising and public relations (12%), and design (9%).
The majority of respondents (76%) plan to increase their income by working part-time. 24% chose a part-time job for the opportunity to work for themselves or self-actualization. 18% said they want to try something new. The same number (18%) stated that they are now looking for a permanent job.
17% said they wanted to learn a new profession, 15% said they used their free time in this way.
Additionally, men are more likely to seek fulfillment opportunities in part-time jobs (28% vs. 28%) and also have more free time for part-time jobs than women (12% vs. 22%).
29% of respondents stated that part-time work is between 30% and 50% of their income. 26% said that working part-time brings them between 10% and 30% of their income. 15% stated that they can receive 50-70% of their monthly income due to additional work.
Part-time work becomes the main source of income for 14% of respondents.
One in ten people receives less than 10% of their monthly income as additional income. Another 6% stated that part-time work can bring 70-90% of income. At the same time, those who plan to only work part-time have higher expectations for the amount of income than those who can already estimate that income.
Respondents consider the most important factors when looking for a part-time job: amount of pay for a part-time job (65%), location of part-time job (51%), working conditions (44%), and rate of pay for part-time work (33%) ).
15% indicated the convenience of an app or site to find a part-time job. Another 14% chose the opportunity to delete customers and formalize a part-time job. For the 12% segment, it is important not to pay the self-employment tax alone.
Previously recognizedThat the majority of Russians prefer to earn extra money without official registration.

Source: Gazeta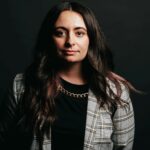 Barbara Dickson is a seasoned writer for "Social Bites". She keeps readers informed on the latest news and trends, providing in-depth coverage and analysis on a variety of topics.