Sony Pictures Entertainment has released the latest trailer for the upcoming horror movie Astral 5: The Red Door, which ends with a creepy, red-faced demon. The video received very positive response from the audience (4.5 thousand likes against 186 dislikes at the time of writing).
This is how the trailer was rated by YouTubers:
"Looks really good, but strange to see Dalton as an adult"— Kaitlyn_Gloor.
"I can't believe it's June already, we're seeing this movie in a few weeks"-BryanD0721.
"When the red demon song started playing, I got goosebumps"– RASIM TURABOV.
"I didn't expect to see the moment at 1:08! It's first class originality for a horror movie. In the end, this movie will become a classic in its own right! And the demon's visual aesthetic looks intimidating."– Blue.
"Hindily horror film in a long time"– Saad's Requiem for Sasuke.
The actors from the first parts: Ty Simpkins (Ty Simpkins), Patrick Wilson (Patrick Wilson) and Rose Byrne return in the roles of Dalton, Josh and Renee.
Events unfold ten years after the first two films. Josh sends his son Dalton to an idyllic college, but the characters face demons from the past.
Astrala 5: The Red Door will premiere on July 7 this year.
🐮 Stardew Valley 3D? Steam has released a cozy farm simulator – Everdream Valley
Source: VG Times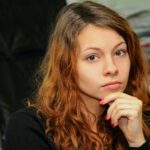 Christina Moncayo is a contributing writer for "Social Bites". Her focus is on the gaming industry and she provides in-depth coverage of the latest news and trends in the world of gaming.