Diablo 4 is a new part of the legendary series from Blizzard Entertainment. The release will take place on June 6, 2023, but you can participate in the game's beta testing as early as March. Our guide will show you how to access Diablo 4 if you live in Russia or Belarus.
When will the Diablo 4 beta test take place?
Beta testing is divided into two phases. The first will take place from March 17 to 19, but only those who pre-ordered the full version of Diablo 4 can participate. The second phase is open to everyone, regardless of whether they have pre-purchased the game or not. This runs from 24 to 26 March. Participation in the beta test is completely free.
Unfortunately, residents of Russia cannot simply go to Battle.Net or the console store website to purchase a new game on their account. We will have to use alternative methods.
Pre-order Diablo 4 on PC in Russia and Belarus
To get started, sign up for a foreign account on Battle.Net with a VPN from the same country. We talked about it in more detail in a separate article. It is advisable to choose Kazakhstan because of the relatively low prices and the possibility to connect a Russian mobile phone number to it. You can determine the country when creating an account.
Then you have to buy the game through third party sources. Among them are Plati.Market, GGsel, Playo.ru, Irongames, FunPay and many others.
The first way is to buy a payment card, then add Diablo 4 to your account yourself. In this case you get direct access to the beta test.
The second option is to give the game as a gift. This option is cheaper, but there is a catch – some sellers send the key with a delay of several days or even on the day of release. In this case, you may not be able to participate in beta testing for those who have purchased the pre-order. Therefore, we recommend the first method.
Keep in mind that you will have to pay intermediaries for their services anyway. The specific price for overpayment depends on the site and may change over time. At the moment, the total cost of the standard version of Diablo 4 is about 6000 rubles. Deluxe and Ultimate versions are several thousand more expensive. They, in turn, give you access to the full version of the game a few days before, offer a battle pass and various bonuses for your character.
Pre-order Diablo 4 on Xbox
If you're playing on a Microsoft console, you'll also need to purchase recharge cards from third-party vendors. After purchasing a payment card, you must create a new foreign account and enable the VPN of the same country. After that, it remains to go to the Microsoft website and purchase the game. The procedure can be performed on a PC and then log into a new profile on the Xbox. You don't need to connect your console to a VPN.
As with the PC version, if you purchase the full game, it will not be shipped to you until the day of release. In this case, you will not be allowed access to the closed beta test.
Pre-order Diablo 4 on PlayStation
You will also need to use an account in another country. It is usually recommended to wait three to five days before making any purchases. However, during this time, the Diablo 4 beta test will end. You can start a new account and replenish the account on it, but in this case you risk getting blocked and losing your money.
If you already have a foreign account, you simply buy payment cards from intermediaries. There are similar offers, for example on the Buka website. There you can top up your Polish PS Store account. An alternative option is to use debit cards from foreign banks, if you or your friends have them. Intermediaries also offer similar services, but then you must provide your account details. Accordingly, if it has already bought games, then you risk losing them.
After replenishing your wallet, go to the PS Store, search for Diablo 4 and pre-order. From March 17 to March 19, you can participate in the closed beta test.
We have already described above how to buy the full version of the game from intermediaries. You will receive it with a delay or on the day of release.
Access the free beta test without pre-ordering
We are talking about beta testing, which will take place from March 24 to March 26, 2023. To access it, it is enough to create a foreign account using the VPN of the same country. Depending on the platform, you will need to open a new profile in Battle.Net (PC), Microsoft Store (Xbox), or PlayStation Store (PS4 or PS5). On a PC, select Kazakhstan as the country, as it allows you to bind a Russian mobile phone number, and on Xbox and PlayStation – any country except Russia and Belarus. It is recommended to use foreign mail as a mailbox, for example Gmail.
If you already have an active foreign account, use it.
What awaits players during beta testing
You can launch the game, get acquainted with the gameplay and features. Before you, however, is not a complete, but a greatly reduced version of Diablo 4. The developers have announced that during the beta test, players will have access to:
Prologue and first level;
Three character classes – barbarian, wizard and villain. Maybe they'll add another necromancer and a druid on March 24;
Leveling up a hero to level 25;
A boss fight named Ashava;
The ability to play together on one screen. This feature is available on Xbox and PlayStation consoles.
After the end of the beta test, your hero will be deleted. It is not possible to transfer it to the full version of Diablo 4. However, if you manage to reach level 20 and/or reach the town of Kiovashad, you will receive in-game rewards.
Buy Diablo 4 on console discs
If you have an Xbox One, Xbox Series X, PS4 or PS5 with a disc drive and are not interested in the closed beta test, you can purchase the game on physical media. The publishers have promised that the discs will appear on store shelves. Moreover, they are guaranteed to be sold on Avito.
Disks allow you to put the game on your Russian account without the services of intermediaries and the risk of profile blocking. If desired, it can be sold after a while.
Source: VG Times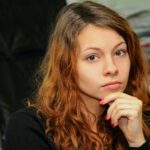 Christina Moncayo is a contributing writer for "Social Bites". Her focus is on the gaming industry and she provides in-depth coverage of the latest news and trends in the world of gaming.