Merge Games and Still Running studio have announced the continuation of the pixel isometric soul slick action Morbid: The Seven Acolytes. The game was called Morbid: The Lords of Ire and has an important difference from the first part.
"Even after Gahara's defeat, they never really died. They fell asleep and waited in the wings, waiting patiently for the opportunity to rise.says the description.
Now the project is made in third-person mode and has more modern graphics. The developers also promise new types of weapons, equipment and a redesigned pumping system.
In addition, the formation of the world around the character depends on the decisions made during the passage. The heroine will have to visit five different worlds, made in the style of horror punk. The main objective is to destroy the bosses and drive out the Gahars.
Morbid: The Lords of Ire is scheduled for release this year. Steam already has a page.
Recall that the original Morbid: The Seven Acolytes was released in 2020 and received mostly positive reviews from gamers.🫡 Let's not forget…
Source: VG Times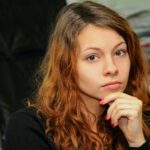 Christina Moncayo is a contributing writer for "Social Bites". Her focus is on the gaming industry and she provides in-depth coverage of the latest news and trends in the world of gaming.