Youtuber nicknamed DemoAkuroVR is still showing what popular games in virtual reality format could look like. This time, he released a video in which he presented his personal project about Scorpion from the fighting game series Mortal Kombat.
The video was created with the tools Knife and sorcery. The cutscene shows Scorpion burning his enemies in first-person mode and chopping off their heads. Looks pretty impressive. At the end of the video, the author showed Scorpion's battle against Sub-Zero.
Recall that previously DemoAkuroVR made similar videos, but about Assassin's Creed 2 and Star Wars.
As for Mortal Kombat, many fans of the series are still waiting for the official announcement of the twelfth part. According to rumors, ten new characters will appear in it at once. 🐈 Sorry about the cat, of course
Source: VG Times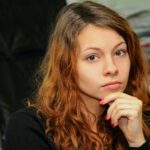 Christina Moncayo is a contributing writer for "Social Bites". Her focus is on the gaming industry and she provides in-depth coverage of the latest news and trends in the world of gaming.