Mud Halk Hogan, author of the most popular modification for Witcher 3 announced a set of HD textures for Cyberpunk 2077. The mod is called HD Reworked Project. In the video you can see what it's like.
The HD Reworked Project mod for Cyberpunk 2077 does not have a release date yet.
Halk Hogan is the creator of The Witcher 3 HD Reworked Project mod, which not only became the most popular for the third Witcher on the Nexus Mods portal, but also became part of the official CD Projekt RED remaster. It has been downloaded more than 5.3 million times. In comparison, the second most popular mod (All Quest Objectives On Map) has 2.4 million downloads.
Previously, DLSS 3 technology worked in the PC version of the role-playing game. Also, the modder upgraded the naked body of the female version of V and showed him in the screenshots.🫥 This guy would make an excellent assassin
Source: VG Times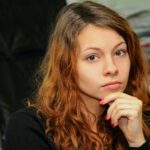 Christina Moncayo is a contributing writer for "Social Bites". Her focus is on the gaming industry and she provides in-depth coverage of the latest news and trends in the world of gaming.