The Supreme Court sentenced 16-year-old Nikita Uvarov from the Krasnoyarsk Territory to 5 years in prison, who wanted to blow up the FSB building in the Minecraft video game. At the same time, the gamer himself pleaded not guilty. He also said that he was not dangerous to society and called the court's ruling too strict.
Nikita Uvarov
The first verdict was handed down in February last year. Then Uvarov also said that he was innocent and did not teach other students anything bad.
We also note that the prosecution initially sought 9 years in prison for a young gamer.
Source: VG Times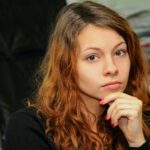 Christina Moncayo is a contributing writer for "Social Bites". Her focus is on the gaming industry and she provides in-depth coverage of the latest news and trends in the world of gaming.