In Russia, they plan to tighten the regulation of gaming content. According to media reports, a list of video game age marking requirements is coming before the end of the year. At the moment, this area is only partially monitored.
It is believed that the Russian Federation will launch a system similar to the international PEGI (Pan European Game Information – European rating system for computer games). It will protect children from the "uncontrolled dissemination of destructive information".
At the same time, according to media reports, representatives of the Ministry of Digital Development, the Ministry of Economic Affairs, the Ministry of Health, as well as VK and 1C are participating in the project. However, the ministries forward questions to each other and VK and 1C deny participation or decline to comment.
Earlier in Russia, they wanted to start regulating this market, because they considered shooters dangerous for children, and also compiled a list of games that could potentially be banned. Admittedly, market participants believe that this will negatively affect the online games industry, as studios and publishers will have to spend money on lawyers to control all aspects.🦇 The neural network combined Batman from the Arkham games with Alien
Source: VG Times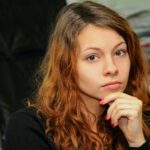 Christina Moncayo is a contributing writer for "Social Bites". Her focus is on the gaming industry and she provides in-depth coverage of the latest news and trends in the world of gaming.