More than 15% of Russians continue to work in the same field where they received their first work experience. Analysts of the Avito Rabota service came to such conclusions with the results of the study that socialbites.ca met.
Nearly half (47%) of those who remained in the "startup" industry declared that their first job was entirely suited to their specialization. A third of these "loyal" citizens reported that they simply loved what they were doing.
57% of respondents said that their current field of activity is fundamentally different from their first work experience. At the same time, men change occupations more often than women – 53% versus 62%, respectively.
The research also showed that two-thirds of Russians (67%) started their careers with a permanent full-time job, and only 28% started their careers with a part-time job.
The most popular sectors where Russians received their first job experience were construction (17%), sales (14%) and administrative positions (10%). Young men aged 16 to 24 now often choose retail (10%) and logistics (7%) as their first income. Girls starting their careers often turn to HoReCa (9%) in addition to selling administrative jobs.

Source: Gazeta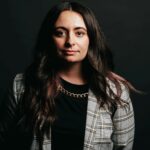 Barbara Dickson is a seasoned writer for "Social Bites". She keeps readers informed on the latest news and trends, providing in-depth coverage and analysis on a variety of topics.