The whirlwind of events distorts the perception of time, but just one year ago, just one year ago, our stomachs shrunk as we watched a stampede of Afghans trying to catch one of the evacuator planes on the Kabul airport runways. Some fell into the void. Others survived by giving their children to someone on the other side of the fence to avoid what would happen. Because an unknown future was better than a trip to the past, where men already knew and suffered, and even more so than women.
The United States thought that the mission in Afghanistan – with NATO's support – came to an end after twenty years: after 9/11, declaring a 'war of terror' instead of a 'holy war' – damn all wars – meant, with the announcement, first to "destroy the Taliban regime". overthrowing and establishing democracy", then seeing that things were getting more and more complicated, he turned to "training the Afghan police and army in the fight against terrorism". Oh, and since they happened, avenge everyone responsible for the 9/11 attacks. What the US didn't take into account was that these newly formed defense units would disintegrate so quickly and literally even before the deadline for withdrawal was reached.
A disastrous as well as a humiliating departure for the world's leading power has caused many to question once again the exorbitant cost of taxpayer money and the collateral damage to human lives. Therefore, it is difficult to attribute to chance the accuracy of which two guided missiles killed Ayman al-Zawahiri, the successor of Osama bin Laden, the head of al-Qaeda, in Kabul on the morning of July 31, exactly one year after the withdrawal. The real mastermind behind the September 11 attacks. Twenty-one years later, and before "overthrowing the Taliban regime and establishing democracy", war, occupation, and abandonment seem to have focused more on US private and political interests than Afghanistan, but did not let anything ruin it. happy ending is a headline for us
One day we will have to seriously examine the relationship between disastrous peace interventions under the auspices of the US empire – did I mention NATO's support before? What about the damnation of all wars?—the ball of global instability is getting bigger and bigger.
The al-Qaeda leader's presence in Kabul hardly violated the first article of the 2020 peace agreement (Doha) signed by Trump as president between the United States and the Taliban government: individuals or groups that pose a threat to the United States and its allies."
Who can surprise? We've all seen that Taliban leaders just two days after they took the capital, lied to the international community and demanded recognition because this time they would respect all women's rights "as long as they abide by Islamic law". A contrast for those who plan to take Sharia law to the most misogynistic of their interpretations. Twenty years of meager gains for Afghan women vanished in an instant.
In a recent statement, the United Nations Organization Security Council urged the Taliban to quickly reverse policies and practices that currently restrict the human rights and fundamental freedoms of Afghan women and girls and urgently reopen their schools.
Eldiario.es titled its analysis of this first year: 'Life in Afghanistan one year after the return of the Taliban: "They beat girls just for smiling"'. And it seems that they have no reason to smile… The Revolutionary Women's Association of Afghanistan, RAWA, which has been fighting for human rights, democratic values ​​and social justice in Afghanistan since 1977, condemns it. Here are some of these bans that women are subjected to, according to this Taliban guide to moral conduct:
• Prohibition of laughing loudly (no stranger should hear a woman's voice).
• Prohibition of wearing shoes that make noise while walking (men should not hear women's footsteps).
• Prohibition of hanging from the balconies of flats or houses.
• Mandatory opacity on all windows (women cannot be seen from outside their homes).
• Prohibition of images of women published in magazines and books or posted on the walls of shops or homes.
Hidden. Deleted. But there is something more terrifying than all these misogynistic, inhumane, cruel arrangements: In the whirlpool of events that distort the perception of time and cause life to flow by… the world is forgetting Afghanistan. By not seeing them, we forget about Afghan women and girls and throw them into hell.
@otropostdata
Source: Informacion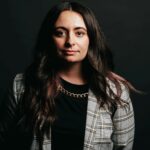 Barbara Dickson is a seasoned writer for "Social Bites". She keeps readers informed on the latest news and trends, providing in-depth coverage and analysis on a variety of topics.