We all know a friend, neighbor or colleague whose views on music, literature or cinema are highly respected. Usually, if the conversation revolves around recordings, books, or movies from 20, 30, or 40 years ago, they make value judgments and display reliable knowledge of any of these art disciplines. "Music is no longer made the way it used to be" It forms the definitive sentence to reinforce the debate over whether an artist is better or worse than the artist that forty years of musical evolution has separated him from. From Woodstock to Primavera Sound; to Lillian Fishman of the beatnicks; Spielberg to Daniel Kwan and Daniel Scheinert. There is only half a century between one and the other. A sneeze for art history, a universe for sociology.
Neurologists and sociologists write the theory, and internet publishers verify it with their measurements: There are those who listen to the same songs over and over again. As well as those who resist discovering a new writer—generally 30-40 years away—or subscribe to a classic movie channel and spend the weekend watching movies. "Gilda", "Casablanca" or "Saving Private Ryan". That neighbor, friend, or colleague is well known: he spends Sunday listening to Deep Purple's song 'Made in Japan' (1972) to the fullest.
Neurologist Oliver Sacks in his book 'Musicophilia, story of music and brain'—and I'm quoting here from the cultural publication 'Shock' that reproduces this idea, points out that "many of what is heard in the early years may be permanent." etched into the brain for the rest of life." "One explanation—'Shock' goes on—fits well with the 2017 Deezer study. 'musical paralysis', They reveal that more than 80% of music consumers systematically play songs from childhood, adolescence and youth that helped shape their adulthood.
The theory can well be applied to the world of cinema. Oscar winner "Everything is everywhere at once" by the aforementioned Kwan and Scheinert, ignites the same debate a Led Zeppelin fan and a Bizarrap fan can have. In terms of generalization – there will always be exceptions – it is possible for the two to be friends, but it seems unlikely that they will come to an agreement. The generation gap starts here. The first thing I found about this history of the multiverse on the web was dozens of comparisons to 'The Father', 'Schindler's List' and some other classics. And after many different opinions, the usual chain of personal discrediting specific to discussion forums. Conversations passed in seconds. From 'masterpiece' to 'you have no idea'.
The day before the Oscar ceremony, I started watching the movie that swept the next morning. I stopped watching at 26 minutes and changed platforms. It is possible that it will continue after a short time or after a while. Or maybe it will happen to me 'La La Land', his dvd is still stored in the basement and the movie stopped for forty-odd minutes. I was never interested in seeing how that musical ended. It is possible that this generational paralysis is only temporary or selective for some things, absent for some or not coming at all, and we continue to be interested in the new music that Radio 3 brings us. Maybe it's just a question of time and management and simply, losing it in some things. We don't want, for example, the story of the woman who confronted Jamie Lee Curtis, where I was staying, over some bills.
My partner Inés Martín Rodrigo, journalist, writer, won Nadal with 'Las formas del querer'. We won the right to leave a book in the middle. Or a movie; or a destructive musical movement that ends the previous one. It happened to me to name two authors on Olympus with Sebald or Agustina Bessa-Luís. Also with seven Oscar films. And nothing happens. Man will never dare to take that step until he succeeds and sees that the universe maintains its balance. Maybe we try to manage our time better in activities that we think are more enriching. Enjoy "everything everywhere at the same time". If they like it, they will have made the most of the 137 minutes. And if not, don't waste them. Those moments represent a sneeze in history, but a universe in our lives.
@jorgefauro
Source: Informacion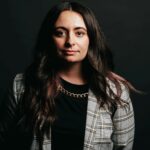 Dolores Johnson is a voice of reason at "Social Bites". As an opinion writer, she provides her readers with insightful commentary on the most pressing issues of the day. With her well-informed perspectives and clear writing style, Dolores helps readers navigate the complex world of news and politics, providing a balanced and thoughtful view on the most important topics of the moment.