The eleventh premiere of 'Your face looks like a 10' to me was one of the most emotional premieres of the season, as it was comedians Agustín Jiménez and Raúl Pérez. He was commissioned to sing the song 'Two men and one destiny', a well-known Spanish pop theme associated with its two original interpreters Singer Alex Casademunt, who died in a car accidentand David Bustamante. In this case, the program decided to bet on the version made by Sergio Dalma and Bustamante instead of the already well-known version of the two old victories.
As soon as the performance starts, additional productThe contestant of the 'Your face looks like a ten to me' contest and sitting on the couch with other editor friends burst into tears while watching the show. Casademunt's former partner of five years barely finished his sentences when the premiere's host, Manel Fuentes, asked him if he was okay: "I guess it's a song full of memories for you," said Fuentes.
The woman from Cádiz said that Sergio Dalma "is one of the greatest artists this country has produced, and although it is wonderful, this song belongs to Àlex Casademunt," the artist declared strongly.
Chenoa, the show's jury member, was unable to say more than four words before remembering his editing partner as the audience cheered him on with applause.
Did he talk about Merche?
Merche pulled herself together and told an anecdote on 'Two men and one destiny', the song has been "right at the beginning of us being boyfriends" since it came out, and the presenter recalled it earlier. when your words are said to speak of Merche. The singer from Cádiz said, "Yes, they asked me a lot. Anyway, I love you, Álex Casademunt, we love you!"
Finally, Manel asked the public for applause for the memory of the late Catalan singer and for his family.
Source: Informacion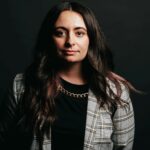 Barbara Dickson is a seasoned writer for "Social Bites". She keeps readers informed on the latest news and trends, providing in-depth coverage and analysis on a variety of topics.