Dmitry Smitia, commander of the combat group of the Ukrainian battalion "Azov" (the organization is banned in Russia), was sentenced to 20 years in a strict regime colony for killing a resident of Mariupol. This has been reported by the Internet project. "Court".
It was noted that the decision was made by the DPR High Court.
"The investigation revealed that in the spring of 2022, this war criminal, together with other militants, was placed on the 3rd floor of a residence on Azovstalskaya Street in the city of Mariupol. They guarded and patrolled the area and also monitored the movement of people in the area of ​​a residential building," the message says.
The authors of the project said that according to the investigation, a local woman came to this location on March 24, 2022 and offered food to the Azov people. In response, he heard only rudeness and threats, demanding to leave. The next day, the woman returned to the position to try to make contact with the fighters, but they did not communicate with her and they shot her.
"On March 25, he committed a crime against the civilian population, in particular a murder. Suspecting that the man had fixed the fire, I fired. This woman has come to our positions several times before, we asked her not to. She brought food. After that, I suspected he was a scout. I complained that he wouldn't come here because we already had a disagreement with him. This angered me and I decided to kill him. "He got a shot in the back and then died," Smithia said in an interview. "Court".

Source: Gazeta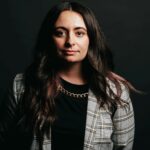 Barbara Dickson is a seasoned writer for "Social Bites". She keeps readers informed on the latest news and trends, providing in-depth coverage and analysis on a variety of topics.