Scientists from the National University of Ireland in Galway found that stressful events increase the risk of stroke. Research published JAMA Network Open.
Scientists analyzed data from more than 26,000 people in Europe, Asia, North and South America, the Middle East and Africa.
The study found that severe stress at home, work or personal life is associated with an increased risk of ischemic stroke and hemorrhagic stroke. In the first type of stroke, blood circulation is disturbed due to occlusion of the vessel by a thrombus, in the second – due to bleeding in the brain tissue. One stressful event increased the risk of stroke by 17%, and two or more increased the risk by 31%.
Severe work-related stress was particularly dangerous: it increased the risk of ischemic stroke by more than double and the risk of hemorrhagic stroke by more than five times.
The "antidote" turned out to be a locus of control: If a person felt in control of what was going on at work and did not see stress as a result of factors beyond their control, they had a lower risk of stroke. The study's authors believe that education in the locus of control may be part of stroke prevention in the population.

Source: Gazeta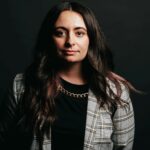 Barbara Dickson is a seasoned writer for "Social Bites". She keeps readers informed on the latest news and trends, providing in-depth coverage and analysis on a variety of topics.