The week is coming to an end and we have made a selection for you of the best cosplay of recent times. We bring the heroine to your attention Cyberpunk 2077 From The First Trailer, Charismatic Moxxi From Borderlands and the still popular Marin Kitagawa.
Ada Wong from Resident Evil 4 by Meiko Inoe
Release remake Resident Evil 4 will take place next year. Not surprisingly, many cosplayers noticed Ada in a long evening dress. A striking example is the work of Meiko Inoe. Recall that it was in this outfit that we saw her in the original 2005 game. Find more Miss Wong cosplay in our main article.
cosplay:
Original:
Photographer – Nikita Parkhomenko.
Are you looking forward to the Resident Evil 4 remake?
Marin Kitagawa from Lady Melamori .'s anime series My Dress-Up Darling
Marin does not even think about abandoning the trends of modern cosplay. This time, her simple yet attractive image was brought to life by Lady Melamori. The girl did not waste time on closed suits, but immediately showed her character in a canonical bikini.
cosplay:
Original:
Melissa Rory from Cyberpunk 2077 by Lada Lumos
In the very first Cyberpunk 2077 trailer, we saw Melissa Rory. She may have originally been intended to play an important role in the storyline. But in the game itself, she literally met in one scene while performing one of the secret tasks. And her story is told through conversations with other people. Cosplay on Melissa was made by Lada Lumos. We have a separate selection dedicated to the heroines of Cyberpunk 2077.
cosplay:
Original:
Photographer – Kira Mitenkova.
Kailena from Prince of Persia: Warrior Within by Valeria Chimera
Valeria often references images from previous games. This time she cosplayed Kailena, the main villain Prince of Persia: Warrior in 2004. Many players were surprised when it turned out that in The Two Thrones, the Empress of the times, survived and traveled with the Prince to Babylon. The fact is that the developers did not make the canon the main one, but the secret ending, in which we defeat Dahaka and become an ally of Kailina.
cosplay:
Original:
Cosplay Compilations
Awesome cosplay on Judy Alvarez from Cyberpunk 2077 performed by beauties from Russia and not only
Best cosplay on A2 from Nier: Automata by leggy beauties from Russia
Excellent cosplay on Elvira from beauties from Russia and not only
Canonical and fan service cosplay on Ada Wong of the most beautiful Russian women
Incredible Black Cat cosplay from the most beautiful girls from Russia and beyond
The best cosplay on Rain from the Bloodrayne dilogy from the most beautiful girls from Russia
Hottest Catwoman Cosplay in Leather Suits and Lingerie
TOP: Nier Automata's best 2B cosplay: from character stripping to erotic bondage
Hot cosplay of Jessica Rabbit from Who Framed Roger Rabbit. Seductive beauties in red dresses, dressing gowns and lingerie
Yennefer from The Witcher 3 by Kristy CHE.
The popularity of Yennefer in cosplay started 7 years ago, simultaneously with the release of the game "The Witcher 3: Wild Hunt" (The Witcher 3: Wild Hunt). And since then, new photo sets in the form of a black-haired sorceress have been released regularly. This time we show the work of Kristy CHE. You'll find more cosplay based on the Witcher saga in our selection.
cosplay:
Original:
Mad Moxxi from Daria Roose's Borderlands series
Moxxi is the most popular Borderlands heroine in the cosplay world. And although she acts as a secondary character in the games of the series, many girls turn to her image. For example, Daria Rooz has already had more than a dozen photo sets in the role of Moxie. This particular costume is non-canon as it is based on fan art.
cosplay:
Hot Bonus:
Original:
Photographer – Kira Mitenkova.
Triss from The Witcher 3 by Zirael
Immediately after the announcement the second part of the series "The Witcher" in the network and at festivals, girls began to appear in the form of a red-haired sorceress. Zirael cosplayed Triss in an alternative dress with a plunging neckline. It appeared in the third "The Witcher" along with the next patch.
cosplay:
Original:
Photographer – Personal Inspire.
Lina from Dota 2 by Torie
Dota 2 is one of the most famous MOBA games. It originally appeared in 2003 as a multiplayer map for Warcraft 3, and 10 years later it was released as an independent project. Torie dressed up as Lina, a sorceress who specializes in firebending.
Cosplay:
Original:
Photographer – Milligan.
Which image did you like the most?
Source: VG Times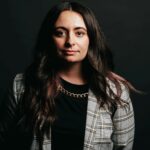 Barbara Dickson is a seasoned writer for "Social Bites". She keeps readers informed on the latest news and trends, providing in-depth coverage and analysis on a variety of topics.