After a big leak GTA 6 and the changes that have taken place at Rockstar Games, in the wake of the hype, the TeaserPlay YouTube channel has released a concept video showing what this game could look like. Of course, the video only reflects the fan's vision of the project and is in no way connected with the development of the project.
To do this, the authors of the work used the Unreal Engine 5 engine with ray tracing technologies, Nanite, Screen Space Reflections and Metahuman. All this allows you to make the graphics as detailed and realistic as possible.
"In this video we tried to show a broad demo of the Unreal Engine 5 environments that we can see in the game. According to reports, the game will initially be set in Vice City, and other maps will be added in the future, including Liberty City, San Fierro and Las Ventures."— note the authors of the video.
Here's how the work was rated by YouTube users:
"Looks very realistic! Great job dude"— Acel Nikitta.
"Some shots are indistinguishable from the real thing, go crazy"– Mikasta.
"The most realistic trailer I've ever seen"– Jazlaan 2.06.
"It's just unbelievable"– cake.
"This game will break the world"— Muhammad Ali.
The original GTA 6 is unlikely to run on a third-party engine. Rumor has it that the project is based on a new version of the RAGE Engine.
Recall that they previously showed on the TeaserPlay channel how a full-fledged remake could turn out GTA 3 with new graphics.
As for GTA 6, the game is rumored to feature two playable characters, including a Latino girl. Their relationship is inspired by the story of the robbers Bonnie and Clyde. The release will not take place until 2024, according to the leak. 👽 EFX Collectible Introduced A Hyper-Realistic Animatronic Grog – It Looks Just Like In The Mandalorian
Source: VG Times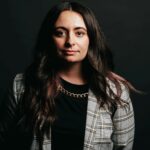 Barbara Dickson is a seasoned writer for "Social Bites". She keeps readers informed on the latest news and trends, providing in-depth coverage and analysis on a variety of topics.