Emotions inside Diablo 4 is needed not only to taunt enemies defeated in PvP battles, but also to perform side tasks. In this guide, we'll show you how to use all of the emotes in the game.
Diablo 4 guides
The emotes feature can come in handy in both single and multiplayer games. For example, in one of the first additional tasks, gamers will have to inspire recruits with an emotion "Hurrah!". The game doesn't suggest how to do this, but you can find the corresponding key when you go to the settings menu.
How to use emotes in Diablo 4
Click to open the wheel of emotions "E" key on PC or Up button on DualShok 4, DualSense, and Xbox controllers. You will see most of the emotions available. Use the mouse wheel to switch menus.
Add a new emote in Diablo 4
Not all emotions are in the emotions menu by default. To add available, just open the wheel and press the button "Change". Drag the desired emote to a free wheel slot or replace an existing one.
These simple steps will help you use all the emotes available in Diablo 4. They are useful for greeting players around the world and for diversifying your communication.
All available emotes in Diablo 4
Below is the full list of emotes in the game right now:
For assistance;
I'm sorry;
Hello;
Thank you;
Specify;
Yes;
To wait;
golf;
Emote "Wings of the Creator";
Behind me;
Hurrah!
No;
Bye;
Provocation.
Some emotes are only available with the purchase of a certain edition. For example, the "Wings of the Creator" can be obtained with the Diablo 4 Ultimate Edition pack.
In the shop, you can purchase additional emotes in stuff packs of 800 to 1000 Platinum (the game's premium currency). Here are some of the emotes you can acquire this way:
"Poor Jorick" (Necromancer only), part of the Manifesto of Duality set;
"Stand up!" (Necromancer only), part of the Death Cramp (Agony) set;
"Deviant Students" (Sorcerer only), part of the Ancient Symbols set;
"Energy Released" (Sorcerer only), part of the Magic Binding set;
"Easy Money" (Rogue only), part of the Weights and Measures set;
Wolfson (Rogue only), part of the "Tools of the Hunt" set;
"To war!" (only for the Barbarian), part of the Lion's Share set;
"Nine Tails" (Druid only), part of the Measure of Redemption set.
It's worth noting that one of the above emotes may disappear from the store in the next update, but new ones will appear.
Other guides
Source: VG Times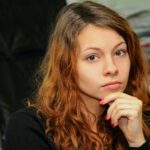 Christina Moncayo is a contributing writer for "Social Bites". Her focus is on the gaming industry and she provides in-depth coverage of the latest news and trends in the world of gaming.