Hogwarts Legacy is an open-world RPG based on the Harry Potter books and movies. During the passage you will encounter various riddles and puzzles. To solve most of them you need to cast the right spell. In this guide, we tell you how to solve all the little puzzles in the game.
Hogwarts Legacy Guides
Full world map of Hogwarts Legacy
Is it possible to have a romantic relationship in Hogwarts Legacy
How to get a broom in Hogwarts Legacy. How flights work in the game
How to solve all puzzles in Hogwarts Legacy – How to open symbolized doors, eye vaults, locked cabinets and locks
As you explore the school of magic, you'll find locked chests, statues that can be set on fire, strange mirrors, flying keys, and locked cabinets. As we've already noted, you'll need to use a certain spell to solve most of these puzzles.
How to solve all the puzzles on Hogwarts. What spells to use
Advice: Just follow the story missions to access new spells. If you don't yet have the necessary skills to solve a puzzle along the way, skip this one and come back later.
Flying pages
Just pick up the page with your hand when it is close to the hero. Otherwise, use Azio to pull the flying pages towards you.
Moth Spiegel
Go to the mirror and look in it. At this point, the player is presented with a random location, which is located somewhere in Hogwarts. Find this place and then use the Lumos spell to get the Manual Pages.
Remark: You cannot use the mirrors until you have completed the additional task "Like a moth to a frame" (Like A Moth to a Frame). It will be available in the library of the central building.
Orb statue
Use the Levioso on the stone statues holding the orb to get the Manual Pages.
Dragon Brazier
Approach the brazier and use Incendio's spell to light it. You will receive "Manual" pages.
Brazier with Gargoyle (Gargoyle Brazier)
Like dragon pots, these statues can be set on fire with Incendio. If the brazier is too far from you, use the Confringo spell.
Doors with symbols and numbers (Symbol Door)
You don't need any spells to solve these puzzles. They are small math puzzles in which you have to put the numbers right. Below we explain what the symbols mean:
Demimasca (a herbivore similar to a big-eyed monkey) – 0;
unicorn – 1;
Kelpie (water demon) 2;
Hydra (multi-headed serpent-like creature) – 3;
Fwooper (African bird) 4;
Five-legged (five-legged predator) – 5;
Donkey (lizard) – 6;
Marmite (a mixture of dust mites and squid) – 7;
Acromantula (poisonous spider) 8;
giant squid – 9.
Closed cabinet in the home cabinet
If you come across a locked cabinet, you need to find a flying key nearby. Only with its help you can open the entrance to the faculty room. The key itself is quite noticeable – you hear a characteristic sound when you stand next to it. Accompany the key to the closet, and when it flies by, hit it. This gives you the Faculty Token.
Remark: Such cabinets can only be opened after completing the side mission The Daedalian Keys.
Eye Chests (Eye Chest)
If you find such a chest, use the Disillusionment Charm to become invisible for a while and get closer to the chest. This way you can open it and get 500 coins.
Walls with Owls (Owl Wall)
As you explore the castle, you are sure to come across walls carved with owl statues. It is enough to approach the owl and turn it several times. This will give you access to the hidden chest.
Closed doors
Locked padlocks and other doors can be opened with the Alohomora spell. It should be noted that higher level castles can only be opened after finding a certain number of Demiguise statues, which only appear at night:
Level 2 doors will open after finding 9 statues;
Level 3 doors will open after finding 13 statues.
Half Mask Statues (Demiguise Statue)
Such images can only be found at night. Use the Revelio spell to locate them. These images also become available after completing Mr. Moon, after the season transitions to fall.
Merlin process
Use the Mallowsweet ingredient on the stone circles on the ground to activate a small puzzle. Each puzzle is special – you have to use magic, light fires, move balls and perform other actions with spells. For their implementation, increase the inventory of the main character.
Astronomy table
It only becomes available after completing the "Astronomy Class" – it appears after the season change and completing some story quests.
Other guides
Source: VG Times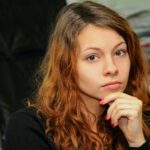 Christina Moncayo is a contributing writer for "Social Bites". Her focus is on the gaming industry and she provides in-depth coverage of the latest news and trends in the world of gaming.