Insider Tyler McVicker (Tyler McVicker) revealed some details about the development Half-Life 3, which he said was canceled in 2015 due to Valve's desire to bet on a VR project. In any case, we are talking about the assembly that was made at the time.
He said that the events of the third part would unfold twenty years after the actions shown Half Life 2: Episode Two. At the beginning of the passage, the game showed a dream of Gordon Freeman, in which he saw important characters die during the Seven Hour War, including Alix, Kleiner and Eli. The game should have been darker than the previous parts.
After sleeping, the hero entered the Aperture Science location. This is the place where events unfold Portal. Therefore, the developers wanted to combine these two universes into one.
Among the innovations, they wanted to create a metal prosthetic hand for the hero, which allows you to change the size of objects and change their temperature. All of this had to be part of the puzzle-solving mechanics.
The moment Gordon allegedly fled from the location, he is said to have seen the ruined city, which is still controlled by the Alliance. So the fighting had to take place on the ruins of the US, just like in beta versions half-life 2.
However, City 17 would be a much tougher place than before. Prisoners of war would be held here and people would be used as a resource.
The rebels, in turn, would see Gordon not as a messiah, but as a curse. Wherever he goes, people are still dying. According to Tyler McVicker, this should gradually allow the character to gain people's trust. Procedurally generated quests were provided for this. The game would become less linear. In addition, stealth elements were planned to be added to Half-Life 3. Players should use drones for reconnaissance.
Be that as it may, development of the Half-Life 3 montage described was canceled in favor of Half-Life: Alyx, which was released in 2020 as a VR project. Besides, gamers really liked the game. You can read our review here. 👍 The new part of DMC looks great
Source: VG Times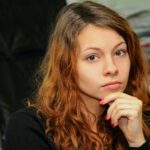 Christina Moncayo is a contributing writer for "Social Bites". Her focus is on the gaming industry and she provides in-depth coverage of the latest news and trends in the world of gaming.