Denuvo DRM protection, which some gamers don't like, lost two big games at once. For them, the corresponding updates have been released, which gamers can already download on Steam.
These are projects like The quarry and Dying Light 2 Stay human. The update for the latter also brought a number of other changes.
Now the game has support for NVIDIA DLSS 3 technology. In addition, some animations and physics have been improved, AI has been improved (infected now behave more realistically when taking damage), changes have been made to co-op, bugs have been fixed, and the interface has also been slightly improved.
In addition, Techland has revealed a roadmap of updates for Dying Light 2 Stay Human for this year.
For example, the game is expected to feature anniversary events, an update to the cross-gen co-op, full compatibility with Steam Deck, a new DLC with an additional location and story missions, and much more.
Recall that in November for Dying Light 2 Stay Human, the first add-on for the story was released, but received mixed reviews.📸 The man created a real street on Unreal Engine 5
Source: VG Times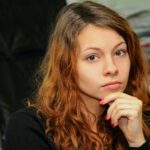 Christina Moncayo is a contributing writer for "Social Bites". Her focus is on the gaming industry and she provides in-depth coverage of the latest news and trends in the world of gaming.