Modder nicknamed SHAAR has published a change that contributes to Mortal Kombat 11 classic versions of ninja fighters from the legendary Ultimate Mortal Kombat 3.
It is noteworthy that SHAAR has shown this mod before using the example of Scorpion and Rain. Now he has brought back the classic Noob Saibot and Sub-Zero skins.
In addition, the mod is now available for download by anyone.
As explained by SHAAR, the mod only works on the DX11 version of Mortal Kombat 11. To install, the custom texture files must be moved to the game's "textures" folder.
Recall that we recently reported about the Scorpio cosplay performed by a girl.
Shang Tsung from the 1995 Mortal Kombat movie showed how AI attracted iconic fighters in a post-apocalyptic world
The girl cosplayed Scorpion from Mortal Kombat. In the picture she has white eyes and burning hands
Shrek artist reveals his take on Kitana from Mortal Kombat. It doesn't look like in games.
Source: VG Times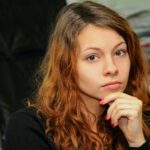 Christina Moncayo is a contributing writer for "Social Bites". Her focus is on the gaming industry and she provides in-depth coverage of the latest news and trends in the world of gaming.