Cary-Hiroyuki Tagawa, who played Shang Tsung in 1995's Mortal Kombat, posted a video to social media showing how artificial intelligence painted Mortal Kombat characters in a post-apocalyptic setting.
The actor responded to the video with his iconic line from the film: "Your Soul Is Mine".
Cary Hiroyuki Tagawa as Shang Tsung
The creator of the video is the user Milanjaram. For work, the Midjourney neural network was used.
The video features famous fighters including Liu Kang, Johnny Cage, Scorpio, Sub-Zero, Sonya and more.
Recall that previous AI was asked to show what the characters will look like. Mortal Kombat 12, which has not yet been officially announced.🫠 It didn't help – the gamer melted down a custom cable for the RTX 4090, which was supposed to solve the original's problem
Source: VG Times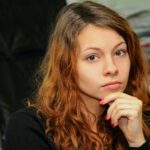 Christina Moncayo is a contributing writer for "Social Bites". Her focus is on the gaming industry and she provides in-depth coverage of the latest news and trends in the world of gaming.