Bandai Namco is hosting another free giveaway of one of their Steam games. It is worth noting that the number of keys is limited (200 thousand pieces), and therefore everyone who wants to participate in the promotion should hurry.
The company offers gamers the opportunity to pick up an adventure game 11-11: Memories Retold, set in 1916 during World War I.
The plot tells of two soldiers fighting for different sides.
"On November 11, 1916, a young photographer from Canada went to the Western Front in Europe. On the same day, a German mechanic learned that his son was missing. Both want to remain human and return to their loved ones."says the description.
All screenshots from 11-11: Memories Retold can be viewed here.
The voice acting was performed by actors Sebastian Koch and Elijah Wood.
The winners will be selected on February 2 this year – an email will be sent to the email (not everyone will receive the key). You can participate in the promotion on the Bandai Namco website.
You can also follow discounts on games and freebies in our Telegram channel.😍 This beauty was presented by Cooler Master at CES 2023
Source: VG Times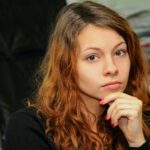 Christina Moncayo is a contributing writer for "Social Bites". Her focus is on the gaming industry and she provides in-depth coverage of the latest news and trends in the world of gaming.