Russian video blogger Artyom Alekseenko, known by the nickname prostomaluy, broke his computer while playing Minecraft. The fact is that in the game he tried to blow up 1 billion blocks of dynamite. However, everything did not go according to plan.
After the explosion, the computer first hung, then began to smoke and went out. The blogger later explained all this, but many viewers who watched the broadcast on Twitch saw his reaction to what happened.
It is not yet clear how badly the computer is damaged, but it seems that the blogger himself got away with a slight fright.
And earlier, another Russian user recreated his microdistrict in Minecraft. It is claimed to completely repeat several quarters of Taganrog. 📺 Sony has patented clothes with flexible screens – owners can change the image on them at any time
Source: VG Times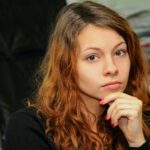 Christina Moncayo is a contributing writer for "Social Bites". Her focus is on the gaming industry and she provides in-depth coverage of the latest news and trends in the world of gaming.