Studio Betagames Group has released a trailer for the criminal action 171, which has already been dubbed the "Brazilian clone of GTA". The game was announced in 2015.
Along with the release of the video, the authors announced that the game will be in Early Access on Steam on November 17th. Although the project has been in the works for about 8 years, it won't get to its full release anytime soon – the pre-alpha will be available to players.
Like the games in the GTA series, the Betagames Group project will be a third-person action game with a vibrant open world, pedestrians, cars, police, and various gangs. Plot details of the project have not yet been disclosed.
The promotion page has already appeared on Steam, where you can find screenshots and system requirements. To play the game, you need at least Windows 7, 8 GB of RAM, a GTX 1050 graphics card and 17 GB of free space.
😁 The network showed a new erotic figure of Lucy from Cyberpunk Edgerunners
Source: VG Times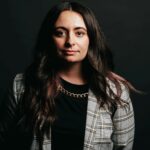 Dolores Johnson is a voice of reason at "Social Bites". As an opinion writer, she provides her readers with insightful commentary on the most pressing issues of the day. With her well-informed perspectives and clear writing style, Dolores helps readers navigate the complex world of news and politics, providing a balanced and thoughtful view on the most important topics of the moment.