When a poet takes a work to market, everything seems to stop. We can define poetry as the mother of all arts, because poetry is nothing but using abstraction to name objects. Some will think that I am wrong, that there are other arts that achieve this without words, but I ask you: does not painting cease to be poetry in image? These concepts will lead to a long discussion, and as I cannot be disproved, this is probably not the tool. We will position ourselves to discuss this at a more convenient time.
Written by Ramón Andreu, published by Smiling ape editions, Retrato robot, like all of Ramón's work, is a reflective yet ironic collection of poems. Andreu starts from a photograph to look back, without any particular nostalgia, but with that joke Cádiz carries on his shoulders. The poem, which opens the book as a foreword, in a Chinese restaurant overlooking the Rock of Gibraltar, June 2015, states: "Many years ago / from that photo / where I did not recognize myself. // Malnourished by dreams, / without poetry, / pretending to be someone else/ and at the same time / being nobody. // At that time / I couldn't fit my face / the perfect mask /-let's say the officer's costume, / for example / to disappear, / to be a shadow, / to run away from me, / to run away completely». Memory helps Ramón understand what his starting point is. The title states it as Robot Portrait as a reconstruction of his personality or personality so that it can be identified.
Ramón seeks identity in every poetry collection of himself and the collective. The lack of identity is probably the corpus of Andreu's poetics. The author of this work searches for family memories, portraits of a distant past. In the poem Dressing Up as a Clown we can see: "I remember disguised as a clown / disguised. / He would have been four or five years old, / Surrounded by people / In the middle of the square, / It was carnival time. // Painted face. / Red suit, white shirt, /yellow wig, bow tie, /s black hat, smiling. // Poet disguised as a clown. / The clown disguised as a poet». Despite Cádiz's joke, Ramón's poetry has a bitter taste in the mouth. It is part of the stigma of melancholy, somewhat scattered, not reaching a dominant pessimism, but a remnant of it. In Robot Portrait, the poet matures and reaches an already recognizable voice. Andreu already has his stamp on his poetry.
The robot portrait is divided into eight recognizable parts: prologue, memory, reflection, mysticism (on request), metamorphosis, metamorphosis, pandemic diptych, and epilogue. They form a whole, forming a solid and extensive collection of poems. Ramon takes you to the human spirit with his verses. We can appreciate that their problems or insomnia are common to all people. As Kafka's poem The Metamorphosis tells us (but in reverse): "From bug to human. / From son to father. / From coward to poet./ / / From what I never was, / from what I am, / bug, son, coward, / / ​​left only / that strange mixture / remnants of fear and hope, /s dreaming of an uncertain future, / man, father , poet, / Undefeated and unmasked R.
Ramón Andreu reached his voice, his poetry. In his verses, he analyzes his surroundings through the prism of which he is a child. He made a qualitative leap in his poetry with his Retrato robot. I think he needed to write and publish this book himself, to dust off the past and thereby advance his work, because everything that happens to us over the years forms the pieces that reconstruct us. The last lines, in the form of an epilogue in a poem entitled Hopper's automaton, show this: "A failed attempt in a poem, / who draws / more than ever / reflection of the poet / who / as never before / this robot portrait".
Source: Informacion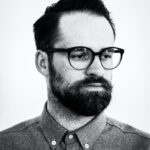 Brandon Hall is an author at "Social Bites". He is a cultural aficionado who writes about the latest news and developments in the world of art, literature, music, and more. With a passion for the arts and a deep understanding of cultural trends, Brandon provides engaging and thought-provoking articles that keep his readers informed and up-to-date on the latest happenings in the cultural world.