'blockchain' promises to be the most important socioeconomic advancement of the first half of this century. Sometimes marred by the bad image of cryptocurrencies and their speculative ups and downs, the use of blockchain or distributed ledger technology is advancing at a dizzying pace in many areas. Barcelona will be the nerve center of the region between Sunday and Tuesday. blockchain controversy To celebrate the European Blockchain Convention, which will bring together more than 1,500 people and 200 speakers. Being aware or not aware of current events in this new universe may mean that companies and individuals turn their backs on the changes that will directly affect the industry and consumption in the coming years. Sponsored by Victoria Gago and Daniel Salmerón, the congress places the Catalan capital at the center of international attention with the arrival of representatives of the world's leading companies in the technology sector and promising start-ups in Barcelona.
When you get in touch with some of the speakers who will be attending, there are three main lines of discussion around 'blockchain': the future of digital identity; web 3 or internet decentralization; and the development of financial products for social finance or Sofi or cryptocurrencies. Blockchain and disruption are twinning at a particularly complicated time for bitcoin, whose international price has dropped from $64,000 to $20,000. However, trust in the crypto and blockchain universe among companies in the industry has not been broken.
in your opinion David BelieveThe current devaluation of cryptocurrencies is "largely related to the devaluation of traditional markets and the stock market," said tech consultancy GFT and professor at the European Tech School. According to him, this devaluation will not affect 'blockchain' as a whole or other uses such as certification of operations, 'tokenization' or metaverse.
Fall in prices "reached a positive point" Ivan BashartThe technology manager of Validated ID (provider of digital identities), because it allows "blockchain to be no longer perceived as a speculative tool and other aspects to gain more importance".
And new horizons are opening up with the certification of blockchain and decentralized financial operations. Grace Chen'general manager' Bitget (digital asset trading platform) recognizes that current rises in electricity prices are "threatened" to increase bitcoin creation costs, but that "blockchain" is much more and spaces are opening up around new forms of investment as experts baptize. 'Social trading', which "allows people to interact directly with other investors without intermediaries," is something seen with extreme distrust by traditional financial institutions. "The most important thing is that investors can freely diversify their investments in a safe environment," and for that, the decentralized nature of cryptocurrencies transcends the limits of current banking. In the coming months, financial products will begin to emerge, from loans for cryptocurrency holders to mutual funds, to bridges for the exchange of assets between the digital world and the traditional economy.
For francisco marottoAs head of BBVA's 'blockchain' space, the biggest innovations around blockchain are in finance, new forms of money, payment and lending, as well as insurance, high-risk financial derivatives, digital identity or digital intellectual property. "The good thing about the devaluation of cryptocurrencies is that projects that provide less value disappear and often new initiatives or value propositions emerge because companies focus on development, not market."
Andra GeorgescoCEO of the decentralized social network Districtbelieves that "the convergence between social networks and financial services is not fully understood, but will certainly be revolutionary", "absolutely disruptive to the economy". "We need to start dispelling the myth that privacy is a necessity only if you have something to hide. People have a right to privacy, not because they should be allowed to do bad things, but because they should be free to be themselves. It's nobody's business," explains Georgescu. And he adds: "There is no doubt now that privacy on the web2 has lost its battle with convenience mainly due to the globally adopted social networks, cloud services and advanced surveillance tools", which is why he advocates the 3 roles of these new web applications. It means the end of the personal data traffic business, in which giants like Facebook and Google participate, moving 250,000 million dollars a year.
csilla zsigrihead of strategy Blockchain Technology PartnersIt envisages a process in which decentralization and the commitment to give back the power of web 3 to Internet users will gain weight. full transparency and customer/user centricity is a fundamental right in web3 that will change the way companies use customer data."
Regarding NFTs and the metaverse, the 'blockchain' experts who will be in Barcelona these days maintain high confidence despite demanding new regulatory frameworks. In the case of the Metaverse, they think it will be successful in musical concerts or virtual events, games and fashion and digital accessories. It's all real anyway, but in the pregnancy process.
Source: Informacion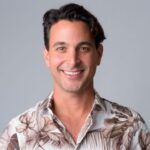 Calvin Turley is an author at "Social Bites". He is a trendsetter who writes about the latest fashion and entertainment news. With a keen eye for style and a deep understanding of the entertainment industry, Calvin provides engaging and informative articles that keep his readers up-to-date on the latest fashion trends and entertainment happenings.