Israel Defense Forces (IDF) reportedWithin 24 hours, it hit 250 targets of the radical Palestinian movement Hamas in the Gaza Strip.
The IDF said the strikes targeted dozens of the group's fighters, missile launchers and terrorist infrastructure.
Additionally, on the night of November 21, the Israeli army sent a fighter to hit the Hamas point from which rockets had been fired into central Israel the previous evening. The IDF claims that the militants' outpost is located near civilian infrastructure.
IDF ground forces found significant amount of weapons in a residence in Gaza
A senior agent in Hamas' Nukhba naval commando unit.
An anti-tank missile was also found by the Israeli army under a child's cradle in one of the houses.
The situation in the Middle East escalated after thousands of Hamas militants infiltrated Israel from the Gaza Strip on October 7, when Hamas announced the launch of Operation Al-Aqsa Flood. In response, Israeli Prime Minister Benjamin Netanyahu announcedthat the country is at war.
The aim of Israel's response to Operation Iron Sword was to repel the attack, release more than 200 hostages, including foreigners, and destroy Hamas. In order to achieve this goal, Israel launched major rocket attacks on the Gaza Strip from the first day of the operation. At the same time, the Israeli National Security Council decided to stop the supply of water, food, goods, electricity and fuel to the sector. Humanitarian aid shipments to Gaza began to be sent through the Rafah checkpoint only after October 20, and it was stated that their volume was insufficient.
27 October Israel announced About the "expansion" of the ground operation in Gaza. It is not known exactly when the operation started, but before the operation, hundreds of thousands of Palestinians fled their homes and moved to shelters and the south of the region. November 5, as part of the ground operation of IDF forces surrounded Gaza city and supplies cut off, still exists in central Gaza to continue fights.
Former Israeli Prime Minister Netanyahu promised to destroy It is Hamas.

Source: Gazeta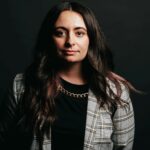 Barbara Dickson is a seasoned writer for "Social Bites". She keeps readers informed on the latest news and trends, providing in-depth coverage and analysis on a variety of topics.