Vegetables and fruits contain vitamins, minerals, antioxidants and fiber – these substances are necessary for the normal functioning of the whole organism. However, some may adversely affect the gastrointestinal tract or cause allergies. Candidate of medical sciences at the Gemotest Laboratory, gastroenterologist Ekaterina Kashukh, told socialbites.ca which vegetables and fruits should be preferred and which should be limited.
According to the expert, non-starchy vegetables are considered the most beneficial. These are different types of cabbage, especially Brussels sprouts and cauliflower, broccoli, as well as all kinds of greens, including cucumbers, zucchini, spinach, celery, leafy salads, parsley. They are low in calories and carbohydrates and contain substances such as naturally occurring nitrates that help support immunity, normal weight and cardiovascular health.
"Starchy vegetables are not very useful – potatoes, corn, pumpkin. They contain more carbohydrates and raise blood sugar faster. You should not completely exclude them from the diet, but people with diabetes and those who want to lose weight should be used with caution, "warned Ekaterina Kashukh.
According to the gastroenterologist, he treats with caution, he also treats nightshade vegetables, such as eggplant, tomatoes, peppers, eggplant.
"These vegetables contain small amounts of poisonous solanine and may cause food intolerance or allergies in some people. In case of intolerance, the intestines may have more difficulty digesting food. This will lead to symptoms such as stomachache, diarrhea. In case of an allergic reaction, itching and redness of the mouth and skin may occur. However, nightshade vegetables should not be left without indication: they contain a lot of vitamins C, A, E, K, folic acid, potassium, magnesium and antioxidants, "said the candidate of science.
He stated that you should not indulge in certain types of fruits and berries. These include strawberries, raspberries, bananas and citrus fruits. They contain large amounts of histamine.
"This substance dilates blood vessels and causes allergy-like symptoms. If you eat too much of these fruits, they can cause local redness, itching, watery eyes, abdominal pain, even in people who are not prone to allergic reactions.
The gastroenterologist advised to take into account not only individual health characteristics, but also the principle of diversity when choosing a diet. The more different vegetables and fruits included in the diet, the more benefits the body will receive.
The former Russians in your name The most harmful eating habits from childhood.

Source: Gazeta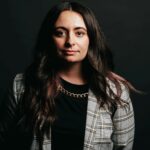 Barbara Dickson is a seasoned writer for "Social Bites". She keeps readers informed on the latest news and trends, providing in-depth coverage and analysis on a variety of topics.