Scientists at the University of Oxford have found that all hormonal contraceptives, including progestogen-only pills, slightly increase the risk of breast cancer. Research published in the journal PLOS Medicine.
The study included data from around 10,000 women under the age of 50 who were diagnosed with breast cancer between 1996 and 2017 in the UK. According to one study, women who take hormonal contraceptives have a 20-30% higher risk of developing breast cancer than those who do not.
The risk of developing cancer was similar among women who took progestogen-only pills or estrogen and progestogen pills. The risk was the same for women using hormonal IUDs, implants, or injections.
The scientists noted that the absolute increase in risk was small. Additionally, their results are partly due to the fact that women take hormonal contraceptives later in life, when the risk of developing cancer is usually higher.
The authors recommend weighing the risks and benefits of birth control methods, given that they provide significant and long-term protection against other types of tumors (ovarian cancer and endometrial cancer).

Source: Gazeta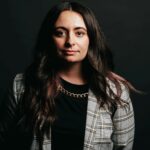 Barbara Dickson is a seasoned writer for "Social Bites". She keeps readers informed on the latest news and trends, providing in-depth coverage and analysis on a variety of topics.