Women at high risk of obesity can pass it on to their daughters, but not to their sons. Reported by the American Society of Endocrinologists.
Obese people are at higher risk of developing diabetes, high blood pressure, heart problems and many other diseases. For this reason, the fight against excess weight is important not only for appearance, but also within the framework of protection from diseases.
Rebecca Moon and colleagues set out to determine the effect of heredity on obesity. To do this, they measured body fat and muscle in 240 children (aged 9 and under) and their parents. They used this data to determine whether the body mass index (BMI) as well as the amount of fat and muscle in the child's body were related to those of their parents.
They found that girls generally have the same BMI and body fat mass as their mothers, suggesting that girls born to obese or very obese mothers are also at higher risk of being obese or overweight. Researchers did not find the same link between men and their mothers, and between children and their fathers.
Formerly paleontologists to solveWhy did the marsupial saber-toothed tiger have "cow" eyes?

Source: Gazeta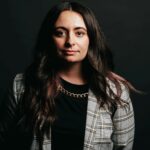 Barbara Dickson is a seasoned writer for "Social Bites". She keeps readers informed on the latest news and trends, providing in-depth coverage and analysis on a variety of topics.