A new study by scientists at the National University of Ireland in Cork found that teenagers who drink alcohol experience changes in their gut microbiome. These changes were associated with a poor ability to recognize emotions and a desire to consume more alcohol. Research results published In the journal EBioMedicine.
71 people participated in the study. Volunteers reported their alcohol consumption levels and underwent a neuropsychological examination. They also reported their three-month diet and took periodic stool samples.
It turns out that drinking is associated with marked changes in the microbiome and difficulties in emotional recognition. The composition of the microbiome has shown an association with social cognition and impulsivity. This confirms the growing evidence that the gut microbiome plays an important role in human behavior.
"These results may help develop new diets to correct alcohol-induced microbiota changes and cognitive changes in young drinkers. The scientists noted that the gut microbiome regulates social and emotional cognition, so it is important to prevent changes in its composition in a timely manner.

Source: Gazeta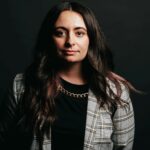 Barbara Dickson is a seasoned writer for "Social Bites". She keeps readers informed on the latest news and trends, providing in-depth coverage and analysis on a variety of topics.