Newbie developers try again and again to hype the popularity of the soul-like genre. There have been so many clones lately that look like two peas in a pod of some FromSoftware creation that it's impossible to count them. Round8 Studio followed a similar path. Their Lies of P is the first serious project and immediately 'soullike'. The adventures of Pinocchio looked intriguing, but the modest experience of the creators aroused fear. Now the game has been released and is available to everyone. What happened: another crooked and unoriginal clone or something more? We know the answer and now we'll tell you everything.
Is the fairy tale about Pinocchio canceled?
Lies of P is dedicated to the well-known fairy tale about Pinocchio or, as far as we are concerned, Pinocchio. However, the old story was reinterpreted in a fashionable way, adding gloom and grotesqueness to it. Papa Carlo aka Geppetto is not just a poor master, but the Tony Stark of his time. After discovering a new substance – ergo, he was able to organize the production of dolls and became one of the most influential people in the city of Krat.
After this, the settlement was significantly transformed, as robots significantly simplified the lives of ordinary people and performed a variety of tasks – from household cleaning to loading multi-ton containers.
However, no one has fully studied the nature of the ergo, which will obviously play a role in the game's plot.
Pinocchio comes to his senses on the train. It is unclear what happened. The entire city is on fire, the dolls have gone mad and gleefully slaughter their masters, and a small group of survivors led by Geppetto and the mysterious girl Sofia have locked themselves in a fancy hotel. It's funny how much the plot reminds us of our hometown Atomic Heart, but this is of course a coincidence.
Already in the early stages it becomes clear that the game has few connections to the original source. For connoisseurs there are only minor references, such as two-faced hunters with cat and fox masks, a money tree, Malvina-Sofia, a boss with a donkey helmet and an analogue of Karabas-Barabas. In every other respect, this is a completely new adventure.
It's interesting to follow the plot; unlike FromSoftware projects, it runs normally. There aren't many notes here, and descriptions of objects and rare leaflets are only necessary for a better understanding of the world.
This distinguishes the new product from other "soul slices", whose developers for some reason decided that a plot with a minimum of exposition and explanation is incredibly cool and original. Moreover, in addition to the madness of the dolls, stone disease is also raging in Krat and real monsters are encountered. These are all interconnected parts of one whole, which the same Pi will have to figure out together with the player.
The title of the game clearly indicates the presence of a lie, and that is true. At several points Pi has a choice: tell the truth or lie. Even during the demo we assumed that the elections would not play a significant role and that turned out to be the case. The only difference is in the final, where either complete truthfulness is counted, giving the hero one legendary weapon, or one hundred percent lying with another weapon as a reward. The cutscenes are almost the same and your path will be almost identical.
However, the plot is far from the most important thing worth discussing in a game like this. What about the gameplay?
What other fairy tales would you like to see in a soul-like game format?
What do Lies of P and other soulslikes have in common?
The main combat mechanics in Lies of P will unexpectedly provide several surprises at once. First, the creators took over the fighting Sekiro: Shadows Die Twice, which means creating perfect blocks and stunning your enemies. You won't be able to consistently win battles with rolls, although there are short bounces and standard dodges here too.
The second function is an extensive arsenal. In addition to a variety of weapons and consumables, Pi has a whole host of additional abilities that gradually open up and make battles increasingly complex and deep.
To understand, let's list: expandable mechanical prostheses with different properties, folding weapons with the ability to combine any handle with absolutely any blade, a replaceable grinding mechanism for different elements, a magic cube with gems for temporary improvements, and finally additional leveling of skills using a mechanical upgrade hearts of Pi.
The diversity is staggering. Traditionally, however, there are some very big bugs in the ointment, and these only become apparent in the dynamics when you spend some time in the game.
Let's start with the basic combat system. Pi can dodge or block blows. However, particularly violent attacks can only be neutralized by a 'perfect block'. This is similar to a parry, but without a retaliatory attack.
It makes sense that the player will try to place the same ideal blocks regularly, but there seems to be even less time for that than in Sekiro. However, there is no enemy staying power. It's unknown how long you have to hold out before landing the ultimate blow, which takes away a quarter of the enemy's health. This greatly hinders the planning of your actions and is downright annoying.
The developers stated that perfect blocks could break enemy weapons – and that's true. But not for everyone and not always. Personally, we had a fight where about five perfect blocks happened, but the enemy's sword felt great. How many such actions need to be taken to gain at least some superiority over the villain is unclear. The game requires you to have fairly high skill and timing, which not everyone can do. However, you can simply block, losing only a little health and stamina. Everything works as it should here.
In the demo we noticed that dodges were poorly balanced. You go too far and don't have time to get into the small window of a safe attack on the boss. In the full version, the problem persisted, but became less widespread. With the right skill you can still dodge and bounce sometimes, but this doesn't work as well as we would like and is much more difficult than regular blocks.
It's all about the terrible hitboxes and the periodic "cheating" of the villains. Even if a sword or other appendage passes half a meter from you, Pi will still take damage (but not always). Opponents are constantly drawn to your position, so you can't be completely sure whether the saving throw worked or not.
Another hurdle will be the animations. Until Pi finishes the blow, it will not be possible to quickly enter a block. Enemies actively take advantage of this. Your actions are interrupted by every, even the weakest, blow, while the animations of bosses are not interrupted at all. Even if you reacted in time and pressed Block, the hero may simply not do so until he completes the previous action. As you progress, such "yes" pushes will haunt you constantly.
This is what separates FromSoftware projects from clones. Your micro-actions in the battle in the original "souls" are calculated and thought out down to the smallest detail. Of course, genre connoisseurs can argue about this, because there are already quite a few videos on YouTube where all Lies of P bosses are completed without any health loss. For the average gamer who buys one soullike a year, all this can become not only a problem, but also a reason to leave the game forever.
The levels are also inspired more than we'd like by the projects of older comrades. Everything you saw in it Bloodborne or Dark Souls is also there. Even terrible acrobatics on beams with attempts at somersaults on a thin board. The same goes for sewers, swamps, narrow corridors where balls roll straight towards you and opponents jumping out of remote places. Yes, even many of Pi's own animations are one-to-one, like those of the Japanese heroes. Here you can't help but wonder if there is something creative in the game. And yes, it is.
What are the differences between Lies of P and other soulslikes?
Prosthetics, as well as dismantling weapons, significantly refresh the boring gameplay. Each iron hand is useful in its own way and provides new opportunities. The harpoon will pull individual enemies out of the crowd, the flamethrower will almost always help, and the electric prosthetic will work well against puppets. According to the plot, only three hands open; the player is free to choose and edit the rest as they see fit.
Assembling weapons is a separate pleasure. You are no longer limited by stick size if your Pi is below the gear weight limit. The solution is simple: attach a huge blade to the handle of a rapier, and voila – sharpening is twice as easy and the damage is almost the same.
It is very interesting to play with variations, but such a system has its limitations, for example, the move set also depends on the handle and a lightweight weapon will not always be convenient. In addition, the blade and base have different activated abilities that require Legend charges – an analogue of mana that is replenished by hits. If you have a sword that's too demanding, you'll only be able to use the extra skills occasionally, and that's a pain.
Finally, the last tangible innovation is the mechanical heart. Essentially, this is pumping up special skills. Here the developers have included everything that is usually not included in the standard progression system in the soul-like genre – an increase in the number of first aid kits, double evasion, an increase in Legend costs, an increased number of consumables, and so on. However, they offer very little resources for improvements, so you can't try everything, which is a shame. This second type of character development could be similar to the beginner difficulty setting and introduce even more variety into the gameplay.
Visually, Lies of P is beautiful. The game is packed with details and rich landscapes, but there are also a lot of gray sewers and gates. But the project is perfectly optimized and maintains a stable 60 frames without any problems, which is a real breath of fresh air compared to other "hits" of this year.
Lies of P is full of the same flaws as most games that try to emulate the success of the original Bloodborne and Dark Souls. However, unlike its competitors, Pinocchio's adventures offer many new gameplay features. A rich atmosphere and an intriguing plot with a few unexpected twists only complete the experience. This is a great start for the studio, which will immediately take the developers to the big league, but the second part will no longer be able to continuously focus on its older brothers. It requires a lot more creativity, attention to the combat system and something truly new.
Source: VG Times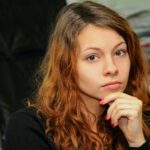 Christina Moncayo is a contributing writer for "Social Bites". Her focus is on the gaming industry and she provides in-depth coverage of the latest news and trends in the world of gaming.