Fighting games are a genre that takes time to master the basic mechanics. If you enter multiplayer without preparation, you will likely suffer defeat after defeat. As a result, you will be disappointed with the game. As part of this guide, we have prepared several tips that will help you understand the intricacies of numerous mechanisms Mortal Kombat 1.
Mortal Kombat 1 Guides
Complete story mode
Single player campaigns The latest installments of Mortal Kombat can be considered colorful training modes. In it you will get acquainted with the main characters and basic mechanics, and a well-presented plot and videos will not let you get bored. At the same time, you will be able to understand which character you like the most. And after completing the campaign, try to continue test towers or called a new mode "Invasion".
It's worth noting that Mortal Kombat 1's combat mechanics differ from previous entries in the series. If you have difficulty with basic techniques, take training. Thanks to this, you can understand what exactly has changed in the game, and adjust your tactics to the new gameplay.
Which fighters should a Mortal Kombat 1 newcomer play?
In the last part, it is not without reason that we mentioned the hero or heroine who will be loved more than others. Mortal Kombat 1 is not as difficult a game to learn as Street Fighter 6, but if you want to be successful in multiplayer, it is advisable to focus on one fighter. He must arouse sympathy, both with his skills and his appearance. As practice shows, this is an important factor, because you will see it for tens or even hundreds of hours in real time. We recommend that you try out all available characters before making your final choice.
If you are interested in the fighters that are easiest to master, we recommend that you pay attention to this Scorpion, Liu Kang, Sub-Zero and Baraka. Take as a cameo for Scorpio Sonya Blade. Her ranged attacks work well with your main character's melee attacks and harpoon.
Master the cameo mechanics
You can't live without additional fighters in Mortal Kombat 1. Each cameo character has their own unique moves that may or may not work with your main character. Practice in the single player modes and determine whose skills match your battle tactics. We've talked more about the cameo mechanics in a separate guide.
Link individual attacks to combo chains
Find out which techniques can be linked to combos. For example, if you lift your opponent into the air, your next move could be a powerful jumping kick. And knocking the enemy back works well with a ranged attack that will be difficult to block. We will talk about specific connections in thematic guides.
Use x-ray movements wisely (fatal blow).
When you have less than 20% health left, you can perform the X-Ray attack known from Mortal Kombat 11. Unfortunately, it is easy to block. That's why it's important to use your super at the right time, for example immediately after the enemy has successfully used a block after your normal attack. In this case, he simply does not have time to take a defensive position again.
But don't forget that your opponent also has the Fatal Blow ability. Once it becomes available, don't rush to finish off the enemy, as he will be able to catch you in a counterattack and x-ray you. In this case, it is better to be careful and reactivate the block than to miss a powerful attack and, as a result, lose the battle.
Don't neglect the block
Blocking attacks won't save you on its own if you use Fatal Blow. Almost every, even the most powerful, series of combos can be interrupted if you place a block in time. It is especially effective to use it at the very beginning of an enemy attack. Not only do you avoid damage, but you can also go on the attack.
But there are some nuances here. For example, if the enemy hits you from below, you will have to duck and use a block. Additionally, you can jump away from the enemy or storm back. In this case, the opponent's entire combo series is lost. And when you see the enemy start to grab, interrupt him with a simple single attack with your hand or foot. And immediately perform your own combo series.
Use an interactive environment
Like the previous games in the series, Mortal Kombat 1 has items in the arena that you can interact with. Take advantage of this. Naturally, the enemy can block such an attack without taking damage. But here you can use a trick. For example, use an interactive item and immediately start a series of attacks. With a high probability, after using the block, the opponent will be open to your attacks, which will cause him to miss the beginning of the combo.
Other guides
Strikes in Mortal Kombat 1 for PC, PS5, Xbox, Nintendo Switch on keyboard and gamepad: comeo, fatality, brutality, X-Ray Moves and others
How to use Cameo Fighters in Mortal Kombat 1
Source: VG Times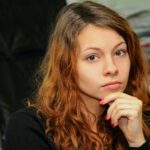 Christina Moncayo is a contributing writer for "Social Bites". Her focus is on the gaming industry and she provides in-depth coverage of the latest news and trends in the world of gaming.