In our latest selection of cosplay you will find Leela from The Fifth Element, Kitana Mortal Kombat (2011), Shadow Heart from Baldur's Gate 3, Penitent Sister from the Warhammer 40,000 universe, as well as traditional depictions of Ada Wong from Resident Evil and 2B out NieR: Automata.
Shadow Heart from Baldur's Gate by Erica Nightingale
Half-elf Shadowheart is a loyal ally of the main character Baldur's Gate 3. If you want, you can have an affair with her. The beauty masterfully wields bladed weapons and can stand up for herself. However, she prefers to solve problems peacefully, so as not to risk her life again. Shadowheart cosplay was created by Erika Nightingale.
Photographer: Andrey Rezun.
Kitana from Mortal Kombat (2011) by Helly Valentine
Edition Mortal Kombat 1 takes place on September 19, so many cosplayers decided to turn to the heroines of this fighting game series. This is how Helly Valentine brought the image of Kitana to life restarted in 2011. Let us remind you that in this game the Princess of Edenia had the most revealing outfit. More works based on Mortal Kombat can be found in our thematic selection.
Cammy from Street Fighter 6 by Zhenya Zhuk
This month, Zhenya posted two photo sets based on well-known fighting games. Her Kitana from You'll find Mortal Kombat 3 in our previous selection, and now we recommend checking out Cammy Street Fighter 6. The tracksuit is completely canon. And connoisseurs of feminine beauty can get acquainted with spicy fan service. We devoted a separate article to Zhenya herself and conducted a video interview with her.
Cosplay compilations
Repentia from KittiLittl's Warhammer 40,000 universe
The world of the board game Warhammer 40,000 is a mix of science fiction and fantasy. And history buffs can see parallels with the Roman Empire and medieval Europe. To get acquainted with this unusual world you do not need to play board games – you can get by with books. And already in 2024 it will be released Warhammer 40,000: Space Marine 2, a gritty third-person shooter in which Space Marines destroy hordes of Tyranid aliens. KittiLittl played the role of Repentia, a sister-in-arms who felt the touch of heresy and now wants to wash away this sin with the blood of her enemies.
Are you looking forward to Warhammer 40,000: Space Marine 2?
2B from NieR: Automata by Tami Yuurei
In July, the final episodes of the anime series NieR: Automata ver1.1a were released, the plot of which is based on game of the same name. However, he went virtually unnoticed. Girl cosplayers periodically turn to the image of 2B, but increasingly choose outfits based on various works of art. An example is the work of the Russian-speaking Korean Tami Yuurei.
Photographer: Andrey Rezun.
Sonya Blade from Mortal Kombat (1992) by Tniwe
Continuing the Mortal Kombat theme is the beauty Vlada Lutsak, better known as Tniwe. The girl returned to the image of Sonya from the very first part of the series. Let's not forget that in the 1992 match she was the only girl on the list of available fighters.
Ada Wong from Resident Evil 4 Remake by Lada Lumos
This was announced at the recent Apple conference Resident Evil 4 remake will be released on iPhone 15 Pro and the latest versions of iPad. Externally, the game looks good, especially considering that it will be played on a small screen. But the big question is whether local government will be helpful. However, if you wish, you can always connect a full-fledged gamepad to your mobile device. Ada Wong cosplay is made by Lada Lumos.
Black cat from Marvel comics by Ira Sokol
On October 20 this year, Marvel's Spider-Man 2 will be released on PlayStation 5. We will once again be asked to fly between skyscrapers on the Internet, fight enemies and supervillains, and also build relationships with girls. Moreover, the game will feature not only Mary Jane, but also Black Cat, so we hope to see a full-fledged love triangle. Felicia Hardy cosplayed in an elegant bodysuit by Ira Sokol.
Who is better suited for Spider-Man?
Trish from Devil May Cry 5 by Shirogane-sama
Devil May Cry 5 proved to be a return to the series' roots after a less than successful reboot. The story of Dante and Nero from the fourth part was given a logical continuation and we got the chance to play as three really different characters. It is true that four years have passed since then and during this time we have not heard any information about a possible continuation. Trish cosplay was created by Shirogane-sama. Her heroine serves as Dante's faithful ally in the battle against demons.
Lilu from the movie "The Fifth Element" by Miakanayuri
The Fifth Element is Luc Besson's best-known film. He is still periodically shown on television and quoted on social networks. And the girls love playing as Lila and the flight attendants from the Floston Paradise line. This week, the character Milla Jovovich was brought to life by Maria Cricova, better known as Miakanayuri.
Fubuki from the anime series One Punch Man by Alcololi
Manga and anime often play with the theme of superheroes. A good example is the One Punch Man series. To confront aggressive monsters, an Association of Heroes was founded in this series, where people with superpowers are trained. Among them is the telepathic girl Fubuki, who can stop an enemy's attack with the power of her thoughts. Her cosplay was made by Alcololi.
Source: VG Times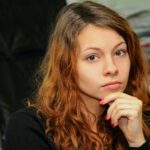 Christina Moncayo is a contributing writer for "Social Bites". Her focus is on the gaming industry and she provides in-depth coverage of the latest news and trends in the world of gaming.