developers Mortal Kombat 1 has unveiled a new trailer for the game, which is dedicated to the Umgadi faction. The video introduced characters such as Li Mei, Tanya and Baraka. They are all part of the main combatants.
Characters from the trailer:
A former member of the Umgadi, Li Mei now serves as a cop in the Outworld Police and has many magical abilities at his disposal;
Tanya is the leader of the Umgadi, a skilled warrior and one of the order's most trusted members;
Baraka is an outcast turned into a deadly monster.
According to the plot, the Umgadi faction is forced to protect the royal family, but its members could not cope with the task, due to which Shao Kahn died.
You can also see Milina in the video. In the scene, they apparently show the moment of the heroine's transformation into a tarkatan, giving her huge sharp teeth like Baraka's.
At the end of the video, Tanya's fatality is shown, killing Baraka by ripping out his spine. In addition, Goro and Darrius were confirmed as cameo fighters.
Mortal Kombat 1 will be released on September 19 for PC, PS5, Xbox Series X/S and Nintendo Switch. Recently, the developers also announced the first battle pack, which includes six additional characters at once.
💍 Elden Ring is coming to Game Pass
Source: VG Times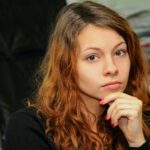 Christina Moncayo is a contributing writer for "Social Bites". Her focus is on the gaming industry and she provides in-depth coverage of the latest news and trends in the world of gaming.