Apple made a big presentation at WWDC 2023, where it introduced the new MacBook Air, Mac Studio, macPRO, iOS17, new OS versions for iPad and Apple Watch, as well as its own Vision Pro AR headset. Most of the novelties shown will be available in autumn 2023.
Announced a new MacBook Air laptop with M2 processor, 15-inch screen and 2 TB of internal memory, which will be 12 times more powerful than the previous Air. The thickness will be only 11 millimeters. It costs $ 1299 (about 105 thousand rubles). Sales start next week.
New versions of Mac Studio workstations based on M2 Max and M2 Ultra chips with 96 GB and 192 GB combined memory are presented, which will be twice as productive as their predecessors. Preorders start June 5. They cost from $1999. First deliveries will start on June 13.
The company showed a new macPRO with a 24-core M2 Ultra processor, 8 TB of internal memory and the ability to display 8K images. Its price is $ 7 thousand (about 565.5 thousand rubles).
iOS17 has been announced with a host of new features such as text call transcription, FaceTime video messaging, contact personalization, and one-tap sharing on smartphones. Apple also improved the keyboard and interaction with stickers and emoji. You can also turn your iPhone into a photo frame or desk clock. Coming out in the fall of 2023.
OC for iPad also brings new features including an AI PDF editor.
The operating system for Apple Watch gets new wheel gestures, advanced customizations, new watch faces, new "sports mode" features, as well as a health and vision app. Will be available in fall 2023.
The new version of macOS is called Sonoma. Will be available at the end of 2023. The operating system will receive a "game mode", and the library of games for Mac will be replenished with 10 projects: World of Warcraft, medium, snow runner, layers of fear, Elex 2, Fort Bodems, strayed, humanity, Resident Evil Village and Nobody's Heaven.
The game has been announced Death Stranding: Director's Cut will be released for Mac in late 2023.
At the end of the presentation, the Vision Pro augmented reality headset was announced, which the company called the first wearable computer. It will work on battery power.
The AR headset is equipped with micro-OLED displays, M2 and R1 processors, built-in speakers, a 3D camera, infrared cameras, LED lighting and a proprietary visionOS operating system. There will be two modes of operation: AR and VR. Instead of a controller, you have to use your hands.
Vision Pro can run applications designed for iPhone and iPad. The cost of the headset is $ 3,500 (about 283 thousand rubles). Sales will start next year.
Source: VG Times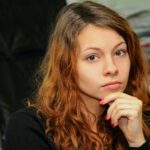 Christina Moncayo is a contributing writer for "Social Bites". Her focus is on the gaming industry and she provides in-depth coverage of the latest news and trends in the world of gaming.