System Shock Remake – Rerelease classic game from 1994. The project belongs to the conditional Immersive sim genre – exploring the environment here is no less important than accurate shooting. The remake has two endings: a bad one and a good one. In this guide, we'll show you how to reach both finals.
Carefully: The text contains spoilers!
How to get the secret (evil) ending in System Shock Remake
Similar alternate endings were seen in the last three installments of the Far Cry series. They abandoned the resistance against local villains at the beginning of the game and gave them a chance to win. In the case of System Shock Remake, there is an opportunity to help the SHODAN supercomputer carry out its cruel plans. True, for this you need to perform some non-obvious actions.
During the first hours of the story you will explore and find the laboratories on the second floor scientific department key card. You have to use it to open "Control Room" (control room). The location is marked on the map.
Go to the computer with the inscription "Laser Charging". Next to it is a button that has to be pressed. After that, you will see how a powerful stream of energy will fall on the planet. SHODAN will contact you and ironically express his gratitude. But this will not save your hero – later he will be captured and turned into a cyborg, deprived of his own will.
However, a bad ending is not considered canon. After the video with the consequences of your actions, you will be prompted to load the previous save. While the laser is not activated, it remains possible to go back and continue the passage of the game.
How to get the normal (good) ending in System Shock Remake
A good ending is considered the regular ending of System Shock Remake, which you reach after you complete the game.
Source: VG Times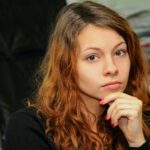 Christina Moncayo is a contributing writer for "Social Bites". Her focus is on the gaming industry and she provides in-depth coverage of the latest news and trends in the world of gaming.