Modder nicknamed viourog has released a new modification for The Witcher 3: Wild Hunt, which makes some changes to Ciri's appearance. He was particularly inspired by her description in Andrzej Sapkowski's books.
"Make Ciri more like the version described in the books"– said viourog in the description of the mod.
Unfortunately, the author did not specify what exactly was corrected, but he published screenshots of the updated Ciri.
In addition, judging by the comments, gamers liked his work.
"Looking awesome"— Michax112.
"It looks much better than the original game. Well done, dude"– Neferata13.
"Her scar is a mix of vanilla game and Ciri Scar mod – Lore Accurate – Lore Friendly – ​​​​​​Book Inspired.
Well done, Viourog." — Elementary Lewis.
You can download the Lore Accurate Ciri Face mod here.
Recall that CD Projekt recently shared how many copies of The Witcher 3 have been sold in eight years.
Note: the cover for the news is symbolic.
🤪 A new trick from EMPRESS: very soon a hacker will start hacking another game, but the name will only tell one person
Source: VG Times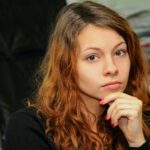 Christina Moncayo is a contributing writer for "Social Bites". Her focus is on the gaming industry and she provides in-depth coverage of the latest news and trends in the world of gaming.