The Outlast Trials is a new part of the famous horror series, which entered early access on May 18, 2023. The main difference from the first two games is the presence of a full-fledged co-op. If desired, the triquel can be completed alone. In this guide, we will tell you about all the nuances of the game: how to get rid of psychosis, how to unlock skills and which skills are better to choose at the beginning.
How to play online co-op in The Outlast Trials
To begin with, you must be trained. After that you will enter a room called "Bedroom". There you need to find a terminal. It allows you to connect to the server, invite a friend and change the settings. To join any team, select the "Search for a group" line. Up to four players can participate in co-op.
How to get ten Liberation Tokens in The Outlast Trials
Liberation tokens are required to access the final test, after which the main story campaign will end. To get started, go through the workout and complete the first three programs. For them you will receive one token. The challenges of program X will then be opened and you will receive one token for each challenge. So there are a total of nine such rooms to go through.
How to slide (slide) in The Outlast Trials
Sliding or sliding is a great way to speed up and get away from the chase when the enemy has already spotted you. This ability can be unlocked by purchasing the corresponding recipe. It will be available from the nurse right after talking to her. To activate sliding, hold down the key responsible for squats (by default the key "C"). We have discussed the recipes below.
The main tactic is stealth
Learn to act quietly so as not to waste valuable resources. Go around the enemies around the back, wait for them to pass by and hide in the cupboards if necessary. The X-ray ability will help you, allowing you to see enemies through walls and other obstacles. This is especially useful during a solo playthrough.
Your stealth passage can be hindered by objects that create unnecessary noise – hanging cans, glasses and much more. Touching them will attract the attention of opponents. But you can throw improvised material yourself to distract enemies and force them to follow the other way.
Most opponents cannot see in the dark. Don't forget to use it. If you move quietly and in the shadows, you won't be noticed. The only enemy you recognize even in the dark is the night fighter. But he is vulnerable to blindness.
Learn the routes of opponents
This is useful for any tactic. If you operate stealthily, you know in advance where the enemy is going and choose a different path. And if necessary, you can set a trap in its path and blind the enemy guaranteed.
Playing the game with friends is much easier than playing alone.
Single player and co-op give you two different gaming experiences. When playing alone, you must solve all the riddles yourself and distract those who try to kill you. Friends can help you in a difficult moment, and pumping in different ways will allow you to combine your skills. It is advisable to allocate responsibilities in advance and to act according to this agreement. For example, one player marks consumables with X-rays, the second player blinds or stuns enemies, and the third heals. But playing the game alone is scarier than in a noisy company. Maybe this is important to you.
Pump up the hero depending on your tactics
The game has fight, hidden And medicinal possibilities. For example, "X-ray" allows you to see consumables and show their locations to allies, "Blindness" help set a trap, and "anesthetize" – Eliminate the enemy. It is advisable to completely pump one branch of skills, and only then think about the second. This is especially useful when playing on a team, when your responsibilities are divided.
Charge your tools and keep a spare battery with you
It is desirable that the items you use have a high charge level. Otherwise, you will not be able to use it at the decisive moment. In addition, we recommend to take with you Spare battery. You can find them in various cupboards, boxes and drawers. Like all consumables, they appear randomly in locations. The X-ray skill helps you in your quest.
Do not forget to collect documents
During each test, you must not only escape, but also collect evidence that proves the company's guilt. During hide and seek and battles with opponents, it's easy to forget about it. Therefore, you should spend time exploring locations. At the same time, you will find valuable consumables that can save your life at a critical moment.
Inspect the locations carefully and take your time
The area where the tests take place is filled with traps, objects that make noise, and enemies lurking in wait. Do not rush forward to the target as quickly as possible, but move carefully, listen and look under your feet. It's better to spend more time exploring the area than trying to deal with the consequences of acting carelessly later.
This is especially true during the evacuation, when the task is completed and all that remains is to go to the place from which you are being taken. If you decide to run this distance, you risk attracting the attention of enemies with all the consequences that entails.
How to find and why use the antidote
Psychosis is an extremely dangerous condition created by a poisonous gas sprayed by some opponents. In addition, failed lock picking and special mines also affect your hero's mental state. When the psychosis reaches a certain point, a special enemy known as the Skinner appears. It is impossible to hide from him, he will chase you and reduce the hero's vitality.
The best way to restore sanity is to use antidote. You can find it in first aid kits and cupboards, but you can also pick it up from the bodies of dead characters. If you don't have it, you have to run away from the monster until the psychosis passes. But this is not the best option, because it will take you a lot of time and other enemies will remain on the location that can damage you.
Buy recipes
Recipes are passive skills that will be active for the entire playthrough immediately upon acquisition. But it will not be possible to open them in the early stages. First you have to reach Therapy on the 3rd level, after which you are given the task of talking to the nurse. Here you will find a list of recipes. Each of them slightly improves your performance, and together these advantages will significantly increase the chance of survival.
Source: VG Times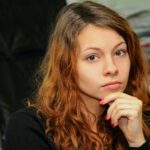 Christina Moncayo is a contributing writer for "Social Bites". Her focus is on the gaming industry and she provides in-depth coverage of the latest news and trends in the world of gaming.