"Based on a true story" – such a sign can often be found in various films and games. Yes, unfortunately many people use this as a marketing ploy, and only green grass in the frame turns out to be real.
But there are also games that the developers have worked hard on, preserving the authenticity of many events. In this top we have remembered ten games based on real events and stories, or featuring real personalities.
Kingdom Come: Liberation
Release date: February 13, 2018
Developer: Warhorse Studios
Publishers: Warhorse Studios, DMM.com, Koch Media, Deep Silver, Prime Matter, Zoo Corporation
Genres: Adventure Game, Fighting, Action RPG
Russian language: yes
Many people have heard about it Kingdom of Come: Liberation! Once this game made a lot of noise, even declared as a killer and series The Witcher, and Assassin's Creed, and The Elder Scrolls to boot. Not to say that the developers did it, but the game turned out well – and that's a fact.
Wise storyline based on the history of Bohemia – the modern Czech Republic. Playing as Henry, the son of a blacksmith, gamers will find an interesting story about survival and struggle for power, as well as the opportunity to fully experience the beauty of the medieval world. All this is accompanied by acquaintances with real historical characters: in the game there are Jan Ptáček, Radzig Kobyla, Hanuš z Lípy and others.
Assassin's Creed series
Release date: November 14, 2007
Developer and Publisher: Ubisoft
Genres: Adventure Action with Stealth Elements, Action RPG
Russian language: yes
About the huge Assassin's Creed series it is quite possible to make legends. Who did we meet there? If we got acquainted with heroes like Leonardo da Vinci (Leonardo da Vinci), Cesare Borgia (Cesare Borgia) and Rashid ad-Din Sinan (Rashid al-Din Sinan) in the first three parts, the further into the forest, the more firewood. Assassin's Creed Odyssey lets you spend time with the ancient Greek thinker Socrates, and Alfred the Great, ruler of Wessex, appears in Assassin's Creed Valhalla.
Of course, it is difficult to speak specifically for the historical component of the plot, but at least you can find some truth – somehow Ubisoft used history books as the main source of inspiration, and therefore inaccuracies are forgivable to her .
Which historical figure would you like to meet in person?
Age of Empires series
Release date: October 26, 1997
Developers: Ensemble Studios, Big Huge Games, Robot Entertainment, Relic Entertainment, Hidden Path Entertainment, Forgotten Empires, World's Edge, Tantalus Media
Publisher: Xbox Game Studios
Genres: Real-time strategy
Russian language: yes
Game series Age of Empires, real-time strategy, covers a large number of historical periods. Stone Age? Please! The Rise of the Roman Empire? In addition, you are very welcome The Rise of Rome. The player gets great development opportunities in the selected period. In addition, there is a separate series Age of Mythology from the same developers, which tells about Atlantis and influences the mythological side of history.
Sid Meier's Civilization series
Release date: September 1991
Developers: MicroProse, Firaxis Games, Westlake Interactive, Aspyr, BreakAway Games
Publishers: MicroProse, Koei, Hasbro Interactive, Infogrames, MacSoft, Aspyr, Atari, 2K Games
Genres: Turn-Based Strategy, Grand Strategy, 4X, Wargame
Russian language: yes
About the series Sid Meier's civilization is endless. By the way, you can also play it for about the same amount. Known for its historical bias and very long games, turn-based strategy has long won the trust and love of players.
The gameplay begins long before our era and continues to the present day. The player can get acquainted with such personalities as George Washington (George Washington), Cleopatra (Cleopatra) and even Peter I. The list can be continued for a very long time, and in addition, it is different for each of the parts of the series . This game is definitely suitable for those who want to plunge headlong into history.
Crusader Kings series
Release date: September 1991
Developers: MicroProse, Firaxis Games, Westlake Interactive, Aspyr, BreakAway Games
Publishers: MicroProse, Koei, Hasbro Interactive, Infogrames, MacSoft, Aspyr, Atari, 2K Games
Genres: Turn-Based Strategy, Grand Strategy, 4X, Wargame
Russian language: yes
If we continue to develop the theme of historical strategies, it would be unfair to bypass the series Crusader kings. Like previous games, it touches on a fairly extensive historical period – for example, the formation of Rus', the fall of Byzantium, and so on. In this game you can easily try on the role of a distinguished prince – the same Vladimir. And you can start with someone smaller.
The peculiarity of the series is that it immediately throws you into the center of historical events, and only the player decides whether to follow the course of history or change everything to his liking.
Eternal Sonata
Release date: June 14, 2007
Developer: tri-Crescendo
Publisher: Bandai Namco
Genre: RPG
Russian language: no
Eternal Sonata is a game that sadly never got a port on PC, but still remains a pretty interesting project. The plot combines the real story of Frederic Chopin (Frederic Chopin) with fantasy elements. Chopin himself is depicted as very mysterious: in a suit with a top hat, and even communicates only in verse. Visually, it's a bit reminiscent of the infamous Genshin Impact, so fans of the genre will definitely flock.
Brave Hearts: The Great War
Release date: June 24, 2014
Developer: Ubisoft Montpellier
Publisher: Ubisoft
Genres: Adventure Game, Puzzle
Russian language: yes
Valiant Hearts: The Great War is a heavy game based entirely on the events of World War I. And let's play for four fictional characters – the farmer Emil and his dog groomer, the ethnic German Karl, the American Freddie and the student Anna from Paris – we go through the entire war on the Western Front with them from beginning to end. Their stories are skillfully intertwined in the storyline – everyone wants to save themselves and their friends.
In the game you will find many household items of soldiers of that time, as well as real letters and photos, documents, military reports, testimonials and more. In Valiant Hearts: The Great War, little is made up – and it breaks the heart.
Kholat
Release date: June 9, 2015
Developers: IMGN.PRO, Imagination sc, Blitworks
Publisher: IMGN.PRO, Imagination sc
Genres: Adventure Game, Survival Horror, Adventure
Russian language: yes
Kholat (or "Kholat: Dyatlov Pass") is a game about the most famous event called "The Incident at the Dyatlov Pass". The project fully allows the player to plunge into the terrible atmosphere of the tragedy, learn about the real members of that expedition to the mountains.
We play for a person who wants to investigate this case. Granted, as you progress, there will be more questions than answers.
All screenshots can be viewed here.
Britannic: Patroness of the Mediterranean
Release date: June 19, 2020
Developer and Publisher: Vintage Digital Revival LLC
Genres: Simulation, Adventure Game, Educational Game
Russian language: no
Britannic: Patrones of the Mediterranean is a game about the Titanic's twin ship, the Britannic. It has no special plot or gameplay. In fact, this is a museum where you can look into every crevice of the last ship of the Olympic class to fully feel the atmosphere of the time when it was built. In the end, the Titanic will certainly not offer such an opportunity, and the Britannic, in fact, is almost an exact copy of it.
That dragon, cancer
Release date: January 12, 2016
Developer and Publisher: Numinous Games
Genres: Adventure Game
Russian language: no
Perhaps one of the most heartbreaking games at the top. That Dragon, Cancer is not about war or world history, but about the personal tragedy of one family. The autobiographical story of husbands Ryan (Ryan Green) and Amy Green (Amy Green), whose son battled cancer for four years.
In both movies and games, the topics of serious illness are always raised very carefully, and it doesn't always come out truthfully. But this isn't about That Dragon, Cancer. The aim of the game is not to plunge the player into an atmosphere of despair, but to show how one can even live in such a situation. Together with Ryan and Amy, you will have to go through both the happiest and the hardest moments. Are you ready for this – it's up to you.
Of course there are many more games based on real events, with real politicians, athletes and other figures. But in this top we tried to collect exactly those that, without unnecessary metaphors, give the player a certain experience and fully justify the label "based on real events". Which games do you remember?
Do you like games based on real events?
Source: VG Times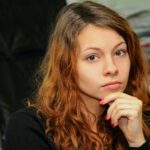 Christina Moncayo is a contributing writer for "Social Bites". Her focus is on the gaming industry and she provides in-depth coverage of the latest news and trends in the world of gaming.