An insider nicknamed The Wave Report continues to share information he believes comes from reliable sources related to the development Mortal Kombat 12. This time he listed the characters that should appear in the game. Of course, everything is still at the level of rumors.
Here's the list:
Johnny Kooi;
Liu Kang;
Reptile;
Scorpion;
Sonya knife;
Below zero;
Jax;
Kintaro;
Kitana;
Smoke (in the form of a demon inspired by Japanese mythology);
kong lao;
Noob Saibot;
Chameleon or Chameleon (possibly both characters);
Cyrax;
Yermak;
Motaro (probably available as a pre-order bonus)
Night Wolf;
Sector;
Stryker;
Quan Chi;
Sarina;
Shinnok;
Kai;
Meat (like an Easter egg or unique skin)
Reiko;
Bo Rai Cho;
Kenshi;
Li Mei;
Nitara (has the ability to suck blood);
Hawk;
Hotaru;
Onaga (likely as a pre-order bonus)
Sujinko;
Milina;
Takeda Takahashi.
In addition, according to an insider, the game will receive three DLC with new characters. One set is dedicated to women, another to horror movies and the third to characters from the past.
It is worth noting that the list includes characters who have already appeared in the MK universe. The Wave Report claims that new fighters will be added to the game, which were previously unknown.
Recall that Mortal Kombat 12 was announced last month, but so far only during a closed presentation.🎭 The twins now have faces – the mud removed the masks from the ballerinas of Atomic Heart
Source: VG Times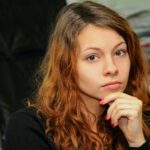 Christina Moncayo is a contributing writer for "Social Bites". Her focus is on the gaming industry and she provides in-depth coverage of the latest news and trends in the world of gaming.